Hilton Paddington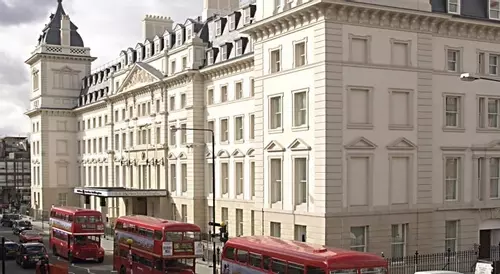 Built in 1954 and one of London's grandest Victorian hotels, Hilton London Paddington commenced life as the world's first palatial railway terminus hotel, brought to life by the vision of Isambard Kingdom Brunel.
Situated at Paddington Station, it's one of the best-connected hotels in London, located 15 minutes from Heathrow Airport and within seconds of four London Underground lines. As a consequence, the hotel positions itself as a premium business traveller venue, offering conference facilities for up to 350 people and a number of business amenities and services.
"Hilton Paddington is very conscious that business travellers need a little bit of respite" said Wayne Bowring "we were tasked to provide a cost-effective television that could still provide a wow factor".
Airwave recommended Samsung's 470 Series hospitality displays, desk-mounting 400 x 49 inch screens into bedrooms and installing a Lynk REACH server at the hotel's headend. Using 470 Series screens in conjunction with Samsung's REACH CMS system enables the management of hundreds of displays simultaneously. The system also provides a variety of user interface templates allowing the delivery of customised welcome messages, promotional offers and local attraction information - especially useful for any large hotel enjoying a city-centre location.
Further work completed by Airwave included a headend upgrade to improve the quality of the TV reception and the wall-mounting of 38 screens across the property.
For more details of Samsung hospitality displays or the REACH content management system, get in touch for friendly, professional advice: info@airwave.tv or 0845 555 1212