T7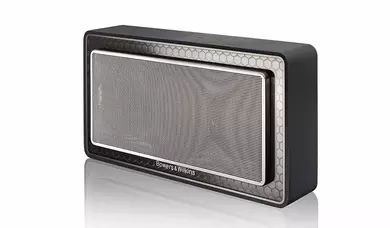 Bose
T7
The T7 wireless portable speaker combines high-quality Bluetooth wireless streaming with compact size and rechargeable convenience for a world class audio experience.
The T7 features high-resolution aptX for crystal-clear audio and bespoke drivers for room-filling spectacular sound.
Compatible with Bluetooth devices - including mobile phones, tablets and computers.
Little speaker, big sound - thanks to cutting-edge Bowers & Wilkins technologies, T7 delivers best-in-class sound for portable wireless speakers. The structural stiffening provided by the Micro MatrixTM technology and the high-output bass radiators ensure T7 provides real Hi-Fi sound in a compact package.
Bluetooth aptX - is B&W's first Bluetooth wireless speaker to feature aptX audio coding technology, enabling audio streaming from any Bluetooth-Enabled device in high definition Hi-Fi quality.

Micro Matrix - derived from the Matrix internal bracing used in our reference loudspeakers and developed as part of Bowers & Wilkins next-generation automotive audio concepts, the Micro Matrix honeycomb structure provides substantial cabinet stiffening and a solid platform for the T7's drive unit.