Studio Range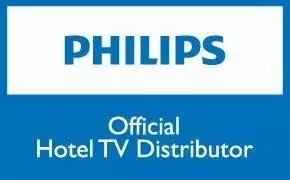 The Studio range of Philips hospitality TVs provide hotels with a compelling entry-level solution at industry-leading prices.
Features that are uniform across the Studio range include: DVB-C/T/T2 HEVC, low power consumption, USB, configurable welcome page, USB Cloning, Off line channel editor for PC, menu locking and volume control.
The HFL2879 range (55" and 65") offer Ultra HD (4k) definition for a real wow factor.
---
65HFL2899S

65HFL2899S

65HFL2899S

From hotel room to boardroom, give them Philips vibrant Ultra HD picture quality with this budget-friendly standalone professional TV. Benefit from simple, lightning-fast installation and an on-screen welcome page that's easy to program.

Vibrant picture. Easy management.

16/7. Ultra HD. Rich images. Stunning contrast • Secure menu and control locking
3 years warranty, extendable to 5 years
Multilingual customer support
Simple set up. Flexible connections.
S2 satellite tuner on board
Instant initial USB cloning. Rapidly configure Pro TVs
Offline channel editor. Easily manage channels on a PC
Mixed channel map to combine analogue, DVB-T/C/S channels
HDMI & VGA for PC connection.

Cost-effective standalone solution

USB auto playback. Music, movies, and more • HDMI-CEC to control external devices
Low power consumption

75HFL2899S

75HFL2899S

75HFL2899S

From hotel room to boardroom, give them Philips vibrant Ultra HD picture quality with this budget-friendly standalone professional TV. Benefit from simple, lightning-fast installation and an on-screen welcome page that's easy to program.

Vibrant picture. Easy management.

16/7. Ultra HD. Rich images. Stunning contrast • Secure menu and control locking
3 years warranty, extendable to 5 years
Multilingual customer support
Simple set up. Flexible connections.
S2 satellite tuner on board
Instant initial USB cloning. Rapidly configure Pro TVs
Offline channel editor. Easily manage channels on a PC
Mixed channel map to combine analogue, DVB-T/C/S channels
HDMI & VGA for PC connection.

Cost-effective standalone solution

USB auto playback. Music, movies, and more • HDMI-CEC to control external devices
Low power consumption

55HFL2899S

55HFL2899S

55HFL2899S

From hotel room to boardroom, give them Philips vibrant Ultra HD picture quality with this budget-friendly standalone professional TV. Benefit from simple, lightning-fast installation and an on-screen welcome page that's easy to program.

Vibrant picture. Easy management.

16/7. Ultra HD. Rich images. Stunning contrast • Secure menu and control locking
3 years warranty, extendable to 5 years
Multilingual customer support
Simple set up. Flexible connections.
S2 satellite tuner on board
Instant initial USB cloning. Rapidly configure Pro TVs
Offline channel editor. Easily manage channels on a PC
Mixed channel map to combine analogue, DVB-T/C/S channels
HDMI & VGA for PC connection.

Cost-effective standalone solution

USB auto playback. Music, movies, and more • HDMI-CEC to control external devices
Low power consumption