Virtual Remote Control
VRC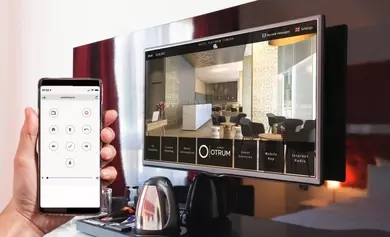 Samsung
Airwave Technical Director, Julian Arnold, demonstrates the Virtual Remote Control
Hands-Free Remote Control Functionality
Used by multiple people over a short period of time, Hotel TV remotes are known to be an infection contamination risk and, due to the nature of their design, are difficult to sanitise.
Airwave and Otrum's virtual remote control (VRC) eliminates exposure to the germ harbouring in-room TV remote control.
The guest uses his or her smart device to scan a unique QR code from the in-room TV (there is no requirement for an app download). This launches a web-based remote control on a phone or tablet, allowing navigation of TV channels and menus via an intuitive and responsive interface.
For operational efficiency, the VRC is automatically disabled on guest checkout.
Key Features Include:
Reduce the risk of in-room contamination
Guests use their own smart device
100% cloud based
QR based authentication
No app download necessary
Access deleted at checkout via PMS
Access deleted daily for non-PMS installations.
Compatible with all Otrum TV platforms.