LG 49'' Transparent Cooler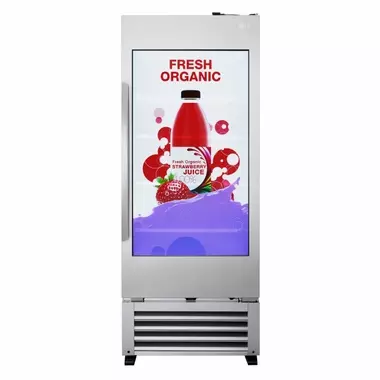 Airwave
LG 49'' Transparent Cooler
Key Features
Hybrid View with Proximity Sensor
With proximity sensor enabled, the display switches from advertising mode to transparent mode enabling see-thru view.
Direct Bonding Technology
By eliminating air gap between the door glass and transparent LCD panel, the LG Transparent Cooler gives unprecedentedly accurate image & colour.
Specially designed for the LG Transparent Cooler, M+ panel (with additional white pixel & enhanced transparency) renders brighter images for a vivid digital content.
Simple Network Management Protocol
With SuperSign W digital signage solution, you can remotely manage content distribution via the Internet. Built-in SoC allows you to play content just by uploading the content via USB.
Door Sensor
When the cooler door is opened, the door backlight is adjusted to prevent dazzling.
R Sensor
Remote control for display menu selection.
Rich Resonance Sound
Built-in speakers (2 x 10 watts) with high ef cient acoustic enclosure
Please click this link for a video of the Cooler.