Samsung REACH 4.0
REACH 4.0 (RF)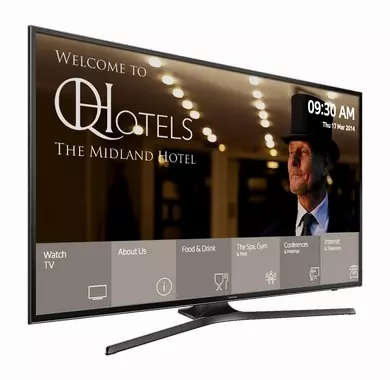 Airwave
Samsung LYNK Remote Enhanced Active Control for Hospitality (REACH) is a hardware and software solution for better management and maintenance of room display content, compatible with all Samsung Hospitality TVs.
Key Features
Improve venue-wide communication across any new or existing infrastructure, as LYNK REACH 4.0 accommodates LAN, WiFi and Coax users.
Simplify hospitality display content creation and deployment through a single-source management system.
Monitor and respond to performance and usage trends for hundreds of hospitality displays from a central remote location
Transform displays into content centers that provide a personalised, differentiated in-room experience.
Eliminate steps and complexities from common guest processes, including express check-out and real-time information access.
Reduce energy and maintenance costs and visible clutter by condensing multiple systems and wires into a single-source content management platform.
Samsung's Hugh Bourne demonstrates REACH: