AirMedia
AirMedia IP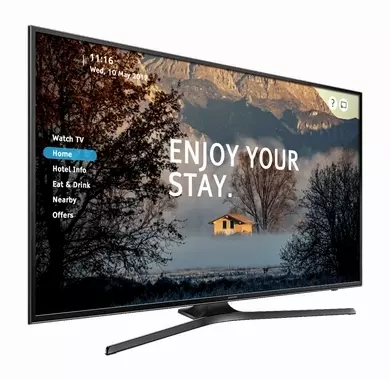 Airwave
AirMEDIA is a low cost, innovative and flexible solution delivering information and interactivity to TV screens over coaxial RF and smart IP TV networks. In an IP environment, AirMEDIA uses the Browser technology found in Smart Hospitality TV's to deliver a Graphical User Interface (GUI) with enhanced functionality that makes it a great alternative to services that often demand a much higher price tag.
INFORM
Costly, printed in-room directories should be a thing of the past. AirMEDIA enables hotel guests to quickly and easily navigate through different sections and pages on hotel information and services. Hoteliers can instantly update the system via a web interface, keeping information fresh, dynamic and up to date. Typically incorporated pages include:
Hotel services and facilities
Local area information and useful contacts
Local sites and attractions
Live feeds, e.g. news, weather, sport
PROMOTE
Generate revenue by using AirMEDIA to promote hotel products, services and facilities or to advertise local businesses.
Hotel offers and promotions
Restaurant, bar or spa deals
Advertise local businesses, such as taxi firms or restaurants
A TAILORED SOLUTION
AirMEDIA is a bespoke information system for your hotel, it can be tailored to suit your hotel's individual style and requirements:
Hotel logos, colours, images and corporate videos
Hotel specific content
Tailored categories and page
Key Features
Cloud-based
Accessible anywhere
Multi-brand TV compability • Design flexibility
Hotel PMS integration
Use external data feeds
Robust and proven