LG SuperSign
LG SuperSign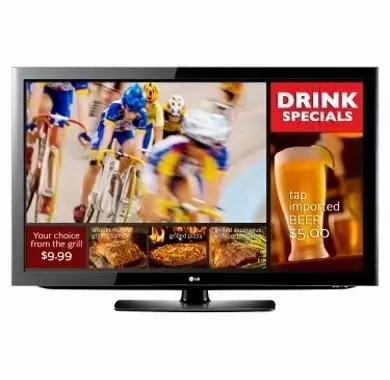 LG
LG SuperSign digital signage solution is perfect for restaurants, hotels, retailers, hospitals or education establishments who are looking for a cost-effective way to engage with audiences, using eye-catching, up-to-date information.
The LG SuperSign TV displays live television as well as tailored signage content, uploaded by USB drive and requires no additional hardware or media player. The system comes with templates which are easily customisable and updatable. Advertisements, information, images and videos can be incorporated into a template on screen to communicate with customers, patients or students.
LG SuperSign TVs require no media player or additional hardware. Perfect for single sites; no network is required.
Edit content quickly and easily on your computer by selecting one of the pre-installed content templates. Simply apply images and text, save it to a USB drive, plug it in to your Supersign screen and away you go! It's that easy.
Signage content can be specific to your business. Customise templates, change colours and fonts. Include company videos, images and logos. Branded templates are available.
Enhance the quality of the customer experience. Its attractive simplicity adds to every retail, restaurant, corporate or public space.