Zip mini Touch-n-go Charger
JFZipMini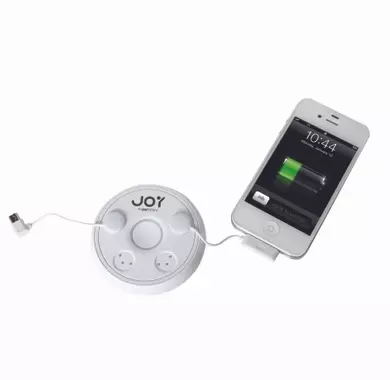 JFZipMini
Goodbye, tangles. Hello, wonder.
The ZipMini Touch-n-Go™ charging station is the next step in the evolution of mobile device power. Now your guests can take a call or check your e-mail without having to manually disconnect cables. Mobile devices reconncect themselves magnetically when guests move it back near the charging station. This sleek little powerhouse charges up to four devices at once, eliminates cord clutter, and looks great doing it. Perfect for cafes, hotel foyers and meeting rooms.
No More Cable Clutter
What sets the ZipMini apart from other chargers (besides its awesome good looks) is the Touch-n-go™ technology built into every unit. Touch-n-go™ is a revolutionary combination of a magnetized base unit paired with magnetized 3-inch mini-cables knows as "zip tails." The zip tails pop immediately into place on the charging station via the built-in magnets, and safely snap off when you move your device. And since the zip tails are delightfully small, the ZipMini makes tangles a think of the past.
Charges Most Mobile Devices
The ZipMini coordinates the charging of almost every mobile device, such as the iPhone, iPad, Kindle, Nook, most mobile phones, most tablets, and any micro USB compatible device. Each unit comes with two zip-tails, one for an Apple 30-pin dock connector and one for a micro USB (additional zip tails are available for purchase).