Samsung LYNK Cloud
Samsung LYNK Cloud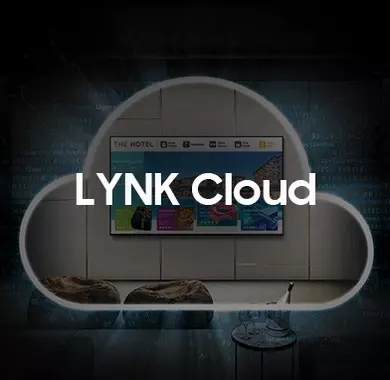 Airwave
The complete hospitality management solution
Samsung LYNK Cloud is an all-inclusive integrated platform featuring content management, device control and even data analytics. LYNK Cloud can analyze guests' content use to uncover marketing insights, helping hotel managers to deliver increased revenue.
From content creation to device control and data analytics, LYNK Cloud puts managers in complete control with insights allowing them to create more impactful promotional content and deliver it to the right guests, at the right time, for increased revenue creation opportunities.

Using cloud tools and data-driven insights to create a personalised experience
Cloud solutions are valuable tools for hotels with multiple locations, giving them access to critical information and valuable business insights whenever and wherever they need it. This central management capability ensures consistency in brand identity, an increasingly important factor for global hotel chains in a competitive market. Cloud solutions reduce the time and cost associated with operations, providing a more agile infrastructure that allows hotels to focus on the guest experience with no distractions or technical difficulties.
Key Features
Comprehensive management and monitoring capabilities
Real-time, network-wide monitoring
Optimum device control
Simplified content creation and deployment
Easy content creation and preview capability