Samsung SH37F Ultra Stretch Signage 
SH37F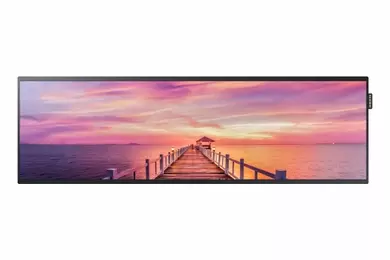 Samsung
Highlights
New widescreen 16:4.5 stretched display
Provide excellent visibility in any lighting condition
Allow display flexibility and customize content from portrait to landscape
Manage and display content easily with DP Loop out and USB playback
Captivate your audience with rich vibrant content even in the tightest spaces
Digital signage today needs to be versatile and cost effective with an emphasis on maximising space efficiency. There has been an increasing need to utilise niche spaces with effective signage solutions. Samsung SHF Series displays, with 16:4.5 wide screen stretched display offer the ability to effectively communicate information in small, narrow spaces such as store shelves, ceilings, and corridors.
When used in a 24/7 transportation environment, Samsung SMART Signage SHF Series displays are an invaluable asset in keeping travelers apprised of changing schedules providing clear, easy to read, vibrant information that can be consumed at a glance.
In retail environments, SHF Series displays offer unique opportunities to promote products or entice customers with product information using minimal amount of space. With the capability of continuous 24/7 non-stop operation, you can rest assured that customer attention will be at an all time high.