TeleAdapt MediaHub TL with TruLink® Technology
TA-8930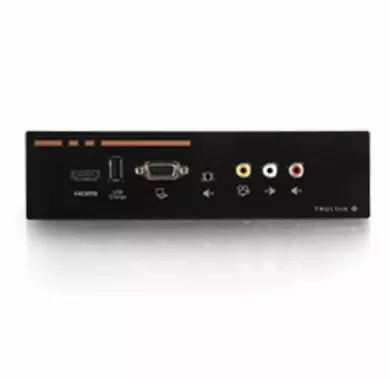 TeleAdapt
TA-8930
All-in-one audio/video connectivity panel for connecting any portable media device to the in-room HDTV.
Truly plug-and-play, automatically senses guest device, switches TV to AUX HDMI input and switches TV back to regular programming when device is disconnected.
Single-HDMI connectivity to the TV with Auto-Input-Switching and Auto-TV-Power-On via CEC specifications, comaptible with hospitality's most popular TV brands.
Internet-ready capabilities for remote management through SNMP network, firmware updates through FTP (updates 10,000 units in 30 seconds), and custom authentication options.
Supports serial control for Auto-Input-Switching with hospitality TVs without CEC as well as hospitality's most popular VOD/PPV systems.
Network-based guest usage reporting for property ROI analysis.
Charges portable electronic devices through USB power port.
Designed to mount in or under desks, nightstands or other casegoods.
POE version available.
Can be deployed worldwide.