Holiday Park Technology
Airwave provide a diverse range of display and network based technology solutions for the holiday park industry - including caravan parks, lodges and camping/glamping sites.
Product categories include:
HospitalityTV Systems | Wifi & HSIA | RF, IPTV & Satellite Networks | Digital Signage | MDM | CCTV | Fire & Life Safety
---
Key customers include: Center Parcs, Bourne Leisure (encompassing Haven Holidays, Warner Leisure & Butlins), Forest Holidays and Bunn Leisure. Case studies include:
Haven Golden Sands, Lincolnshire, Studley Castle, Forest Holidays, Bunn Leisure Signage Solutions, Bourne Leisure partnership

---
Center Parcs
We have enjoyed a lengthy and successful working relationship with Airwave, finding them to be friendly, reliable and efficient.

Their technical knowledge and implementation is first class, as is the nature of the timely, open communication received. We look forward to continuing our partnership.
Martyn Smith MCIPS, MIH, Head of Procurement UK & Ireland, Center Parcs
Bourne Leisure
Having supplied thousands of TVs across the Bourne Leisure estate, Airwave has exceeded all expectations, proving to be a reliable, responsive and efficient technology partner.
Poria Ashtashzaran, Procurement Manager, Bourne Leisure
---
Product Categories
Due to the spread out, often remote, nature of many holiday parks, 'off the shelf' technology solutions are not always appropriate; bespoke designed technology is often required to counteract the connectivity challenges often present - especially at caravan parks and campsites where there's often poor or non-existing television signal or wifi/internet infrastructure.
Airwave's considerable experience in the holiday park sector, positions us as the UK leader in the design, supply and installation of display and network technology to the sector.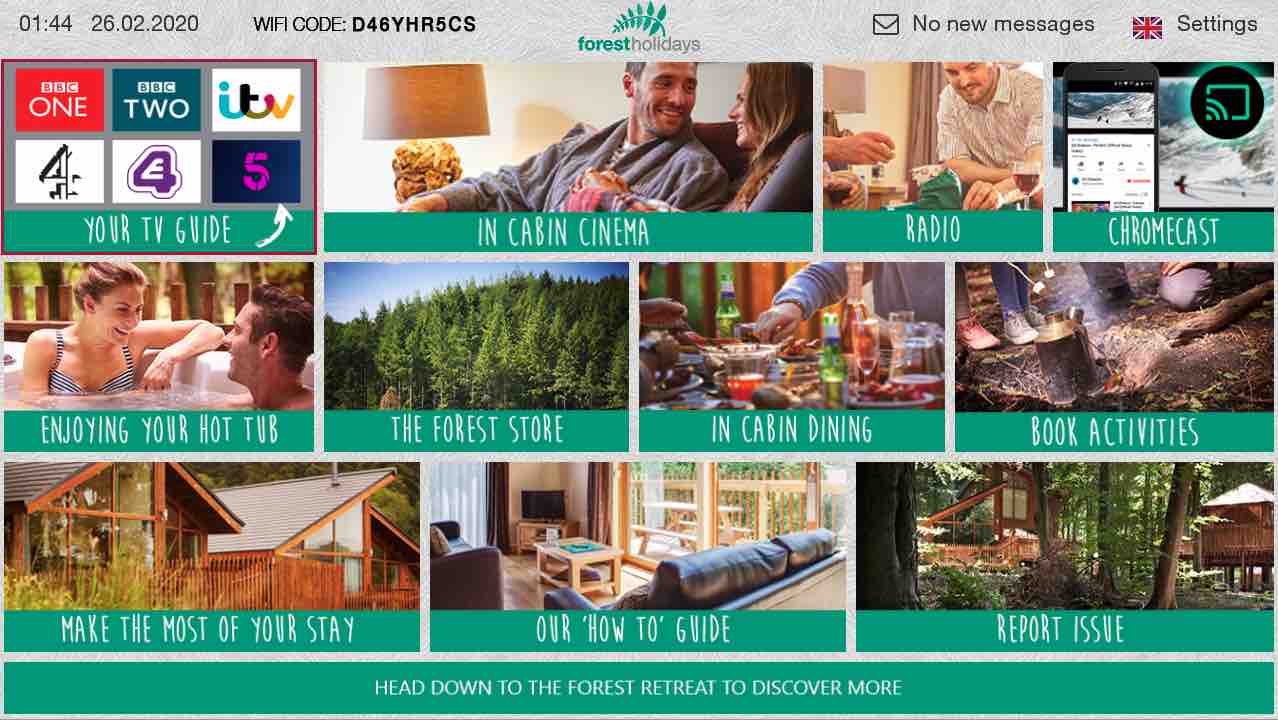 HOSPITALITY TVS & TV INFORMATION SYSTEMS
Hospitality TVs provide a number of sector specific features, including commercial warranties, remote cloning and automatic upgrades. Used in conjunction with an embedded information system, they become a powerful tool, able to perform a number of functions including: the dissemination of information including news and weather updates, park information (such as facilities, food & beverage info, opening times, local services, kids games etc) and the hosting of on-demand movies, programming content and screen sharing platforms such as Google Chromecast - all via a branded/customisable series of interactive information pages.
Via PMS (property management systems), the hospitality TV can interact with other park software, providing a number of powerful (and transactional) features, such as room service, amenity bookings, late check-out etc.
Keen to find out more about the benefits of hospitality TV vs their domestic equivalents? Click here.
Looking for a value driven hospitality TV? Airwave have partnered with British manufacturer Cello to produce the CTSACC series, click here for more details.
---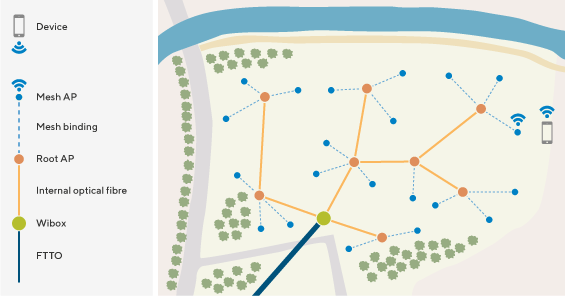 WIFI
In today's connected world, WiFi fulfills a critical role, underpinning technology ecosystems and needing to support increasing bandwidth demands fed by IoT and smart devices. A robust and reliable WiFi network that works for all guests (irrespective of location, remoteness, distance from main building etc) is perhaps the most important component within the hospitality technology product offering. Guests, addicted to smart devices, will not want to spend their valuable leisure time without access to Netflix, social media, video calling etc. If they do? they'll vote with their feet.
When looking at the implementation of WiFi or internet within a holiday park environment, it's important that the installing provider has experience in the deployment of WiFi systems in this sector. An 'off the shelf' WiFi system is unlikely to meet the connectivity challenges of expansive outdoor areas.
---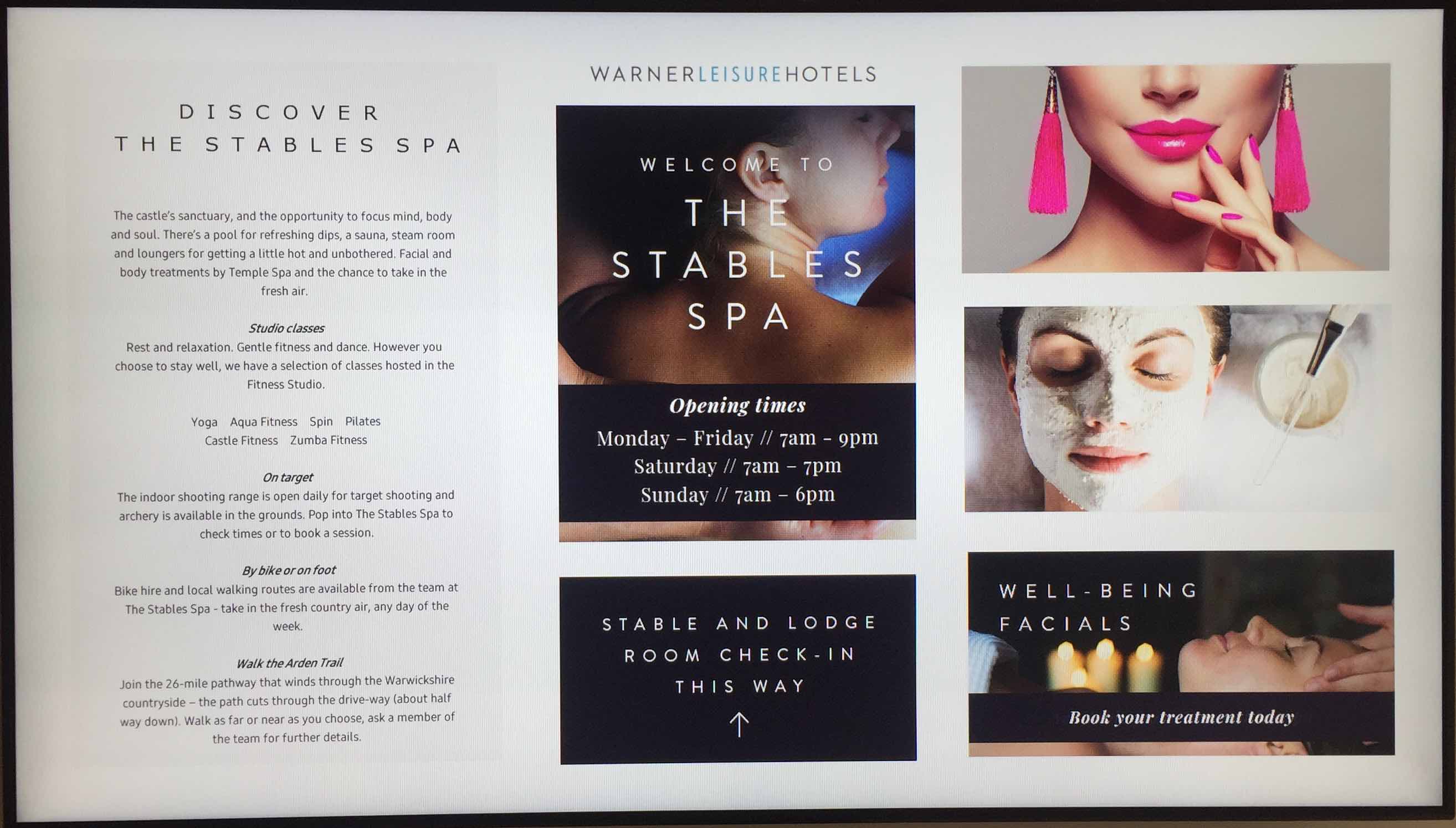 DIGITAL SIGNAGE
Whilst digital signage is, traditionally, a vehicle for advertising, its operational benefits are particularly relevant in a holiday park environment. Large sprawling estates, dynamic scheduling and the constant flow of information from park to guest - all conducive to the implementation of intelligently designed signage.
Signage streamlines (and reduces the cost of) communication in large, busy environments, improving the guest experience and reducing operational strain. Examples of usage in holiday parks include:
- Wayfinding: signage can be used to as a wayfinder or interactive map tool, directing guests to accommodation, facilities or special events.
- Information: daily timetables, local weather, bus & train schedules, local attractions, news & sport feeds, the list is long...
- Social: engage your guests by incorporating the park or brand's social media accounts - and your guests' content - on signage screens.
- Entertainment: signage can display television feeds and video content, and be used in conjunction with the scheduling or advertising or information content.
To find out more about the benefits of digital signage, click here:
---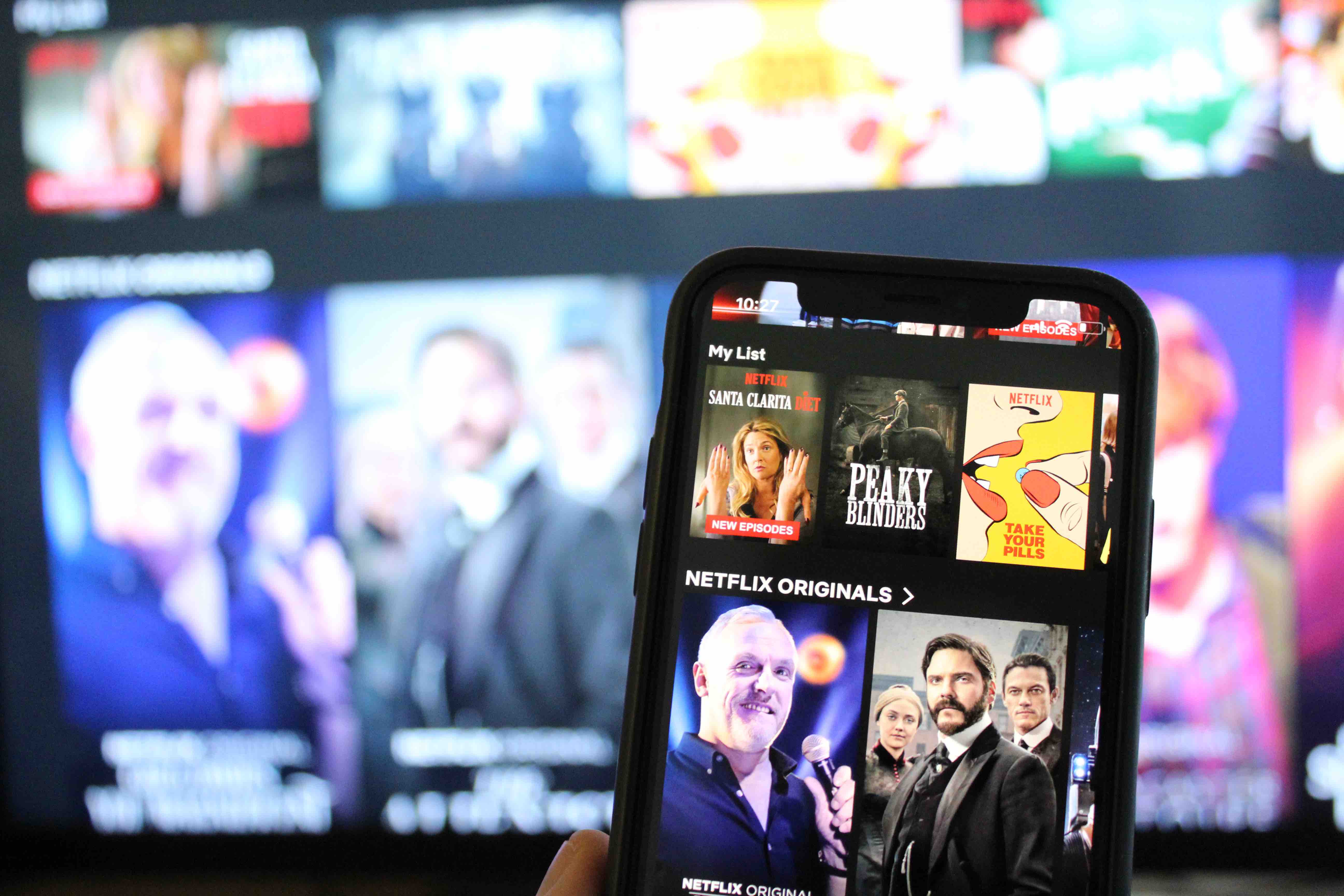 CHROMECAST
Perhaps the most revolutionary TV technology in recent years, Google Chromecast allows a guest to cast content, such as Netflix, Amazon Prime, BBC iPlayer, YouTube etc, from their smart device to the in-room television. This essentially provides each room or cabin with a low-cost but high-performing entertainment system - offering a home-from home experience. Click here for more details.
---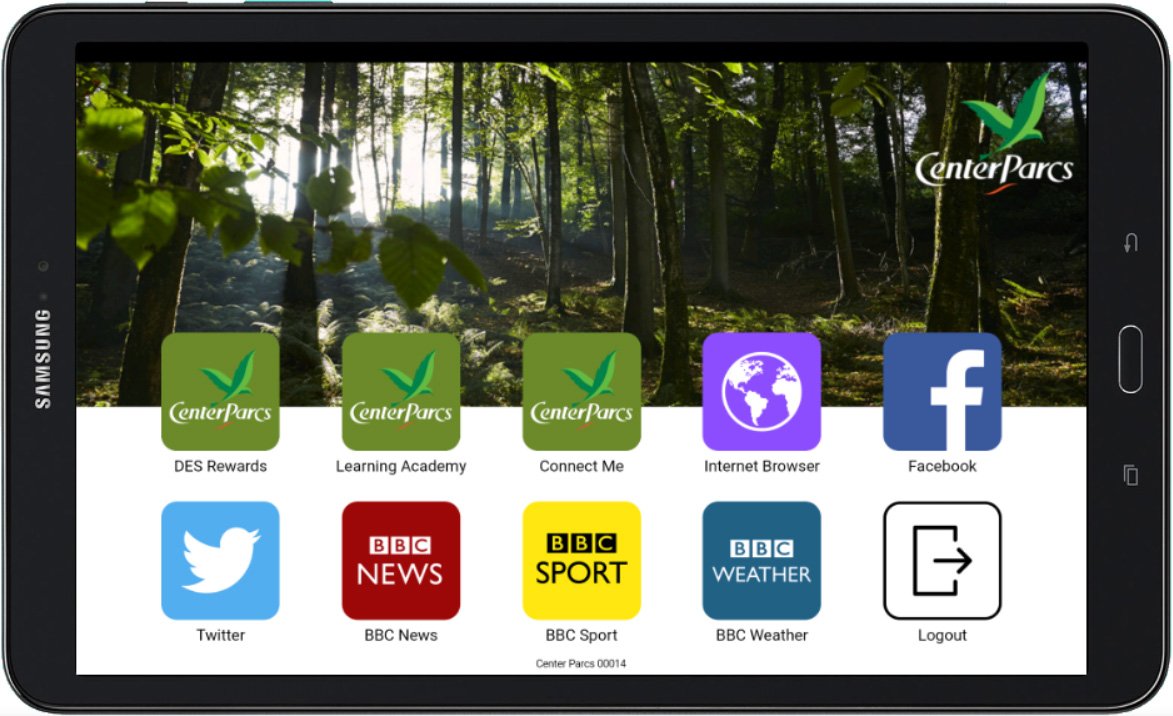 MDM
Mobile device management (MDM) refers to the administration of devices such as smartphones, tablets and laptops, providing multiple operational benefits. It's a scalable and powerful technology and can be used with any IOT device to perform an almost infinite amount of functions: relevant examples include inventory and maintenance management and the remote operation of in-room amenities such as lights, curtains, heating and messaging media.
As it allows the quick and seamless operation of technology from a central point, MDM is particularly useful in the holiday park industry, where sites can be spread over large distances.
To give an example, Airwave has deployed a MDM system within Center Parcs that operates public area TV screens and signage throughout specified areas. This is typically used to change TV channels, adjust volumes etc in various areas in conjunction with sporting events (Premiership football, horse racing etc).
---
FIBRE & CABLING / CCTV / TELECOMS / FIRE & LIFE SAFETY / SECURITY SYSTEMS / ASSET MANAGEMENT SOFTWARE
Airwave belongs to the SCCI Group of companies, a group of 8 UK based companies operating within the technical services environment, and is able (via one point of contact) to offer the deployment of several different technologies. To find out more, click here for details.