Bunn Leisure Signage Solutions
08 January 2018

10:11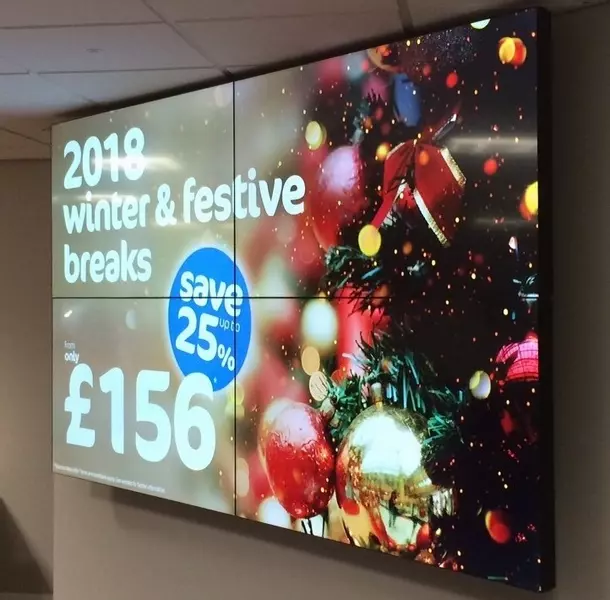 Bunn Leisure provide a diverse range of family holidays along the beautiful south coast in Selsey, West Sussex. With several holiday-home, caravan and camping sites situated in one location, Bunn is one of the biggest holiday parks in Europe.
With a plethora of accommodation sites, a continuous throng of holiday-makers and a never-ending list of activities to organise, a top-drawer digital signage systems was needed to communicate, inform and entertain the masses.
Experts in hospitality technology and of course, located a frisbee throw away from the Billingshurst HQ, Airwave was the natural choice to recommend, supply and install a system to take Bunn Leisure's technology offering to the next level.
"When looking at the scale of Bunn's operation, it became immediately obvious that a sophisticated system was necessary" said Airwave signage expert Charles Mupfurutsa "as a consequence, we thought very carefully about the content management software required to run the system".
Airwave recommended the Signagelive cloud-based digital signage platform; Signagelive is a global leader in the provision of signage software and powers tens of thousands of screens across 46 countries. Featuring an intuitive operating system and hundreds of backgrounds and editable templates, Signagelive provides powerful and comprehensively editable scheduling and content software.
6 x 32" Samsung DCE Series LFD screens were wall-mounted in Bunn's Embassy bar, all screens running Signagelive software on IAdea XMP-6400 media players.
Airwave also installed a 2 x 2 video wall in Bunn's state-of-the-art new office block, consisting of 4 x Philips 55" BDL5588XC screens and running Signagelive CMS on a Chromebox mini media player. The set-up incorporated an Aten matrix switcher (4 in x 4 out) allowing the display of four sources of content on the screens - this will include branding content, sports via terrestrial and satellite TV and feeds from a PC and DVD player. The video wall is also able to display 4k content via the appropriate signal.
To find our more about Airwave's portfolio of digital signage hardware and software, get in touch for friendly, professional advice: 0845 555 1212 or info@airwave.tv