Airwave provides LG's complete entertainment solution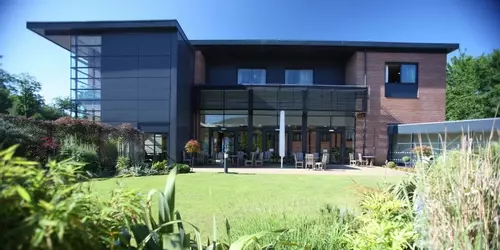 Forest Pines Hotel in North Lincolnshire has had a technology overhaul, upgrading the in-room displays across its 188 rooms, as well as signage throughout the reception and bar areas, to LG's Pro:Centric TVs. Installing 32" screens as standard in the bedrooms and 42" screens in the public spaces, Airwave recommended Pro:Centric due to its enhanced, customisable features. The previous solution offered basic information on smaller 26" screens, so guests are now impressed with the extra screen estate now available in rooms. With a specific requirement for Freeview digital channels around the hotel, Forest Pines made the decision to switch to the sleek Pro:Centric TVs which come equipped with Freeview HD tuning facilities. "Pro:Centric from LG is the ideal solution for Forest Pines Hotel, exceeding customer expectations and providing the easy-to-manage, interactive solution required," comments Charles Mupfurutsa, Sales Manager Hospitality TV at LG.
"Another key feature of the new solution was to distribute its corporate video promoting its services across the hotel, which is easily achieved with Pro:Centric. The solution is working really well for Forest Pines and is now being rolled out across the wider Q Hotels group." The new TVs allow guests to be greeted with a branded welcome message when they turn on the TV sets, as well as view information about each of the hotels individual facilities, separated into different sections for easy browsing and weather reports up to four days in advanced, updated every four hours.
For more information on the latest in-room technology and for friendly professional advice, please contact us on 0845 555 1212 or info@airwave.tv