Park Plaza Westminster
02 January 2019

13:02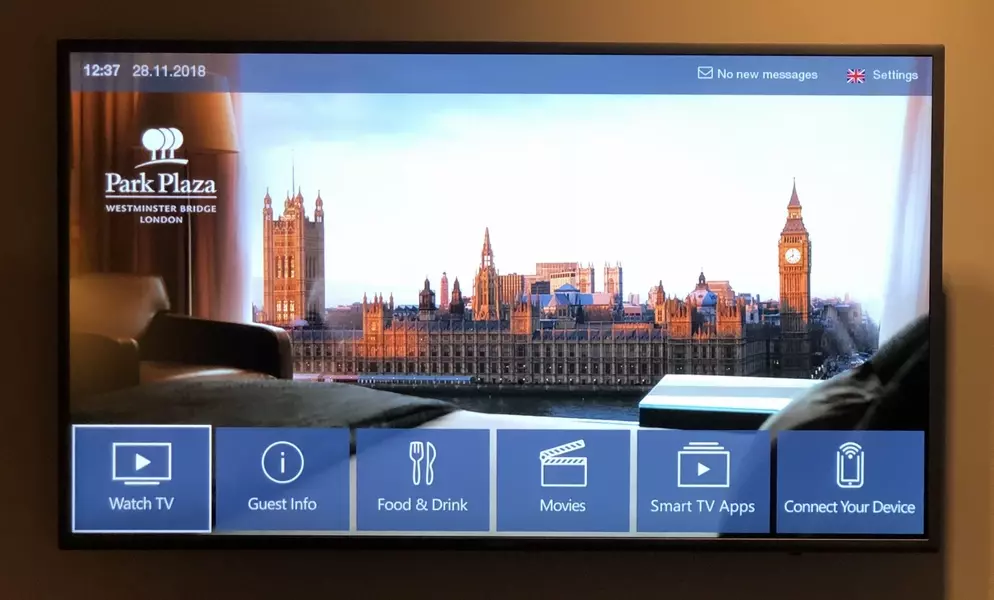 The hotel
With 1,019 bedrooms, the Park Plaza Westminster is one of the UK's biggest hotels. Situated in an enviable location, guests can enjoy uninterrupted views over Big Ben and the Houses of Parliament. Further titillating tourists and corporate travellers alike, the hotel boasts a number of top eateries such as signature restaurant, Brasserie Joel and the Ichi Sushi & Sashimi Bar.
The quality and variety of amenities assist in the hotel's pursuit to offer an excellent 'out-of-room' experience, however it was Airwave's task to help provide an equally excellent in-room experience.
"We were tasked to design a cutting-edge, guest-room entertainment system that would appeal to every type of guest" said key account manager Wayne Bowring, "this involved a mixture of modern technology such as casting and what might be considered as 'traditional' services such as video on demand."
The system
Airwave recommended Samsung's 690 series of SMART TVs, supplying and wall-mounting 1,646 x 43-inch screens across the hotel's 600 suites and 421 bedrooms.
An Otrum Enterprise information system was implemented on each TV, offering guests sophisticated features such as viewbill, on-screen room-service and one-step Chromecast authentication, allowing users to cast their own content (such as Netflix and BBC iPlayer) quickly and intuitively.
Complementing Otrum's system, Airwave commissioned an Airtime movie on demand service, giving guests access to 'pay as you play' HD movies.
"Chromecast is very much hot topic at the moment, but we needed to be mindful of guests, particularly overseas tourists, that don't have smart devices or subscriptions to streaming sites" said project manager Tom Chapman "consequently we needed to provide a movie on demand service."
Airtime's award-winning cloud-based streaming solution removes the need for on-site servers or set-top- boxes, eliminating associated costs and providing cutting-edge VOD content. Apart from a small activation fee, the Airtime service is provided free-to-hotel, with no ongoing content fees and no need for the guest to have a subscription.
Further enriching the hotel's content offering, Airwave installed a Sky Select service in each room.
Sky Select is the new, simple way to deliver a tailored HD channel line-up from one centralised location - circumnavigating the need for sky equipment in the bedroom. Hoteliers can choose a bespoke channel line-up to suit every type of guest.
The challenge
The installation of 1,600+ TV systems in one of Europe's largest hotels is not a simple undertaking - especially considering the hotel's 98% occupancy rate.
"We needed to install television systems into every single room of the hotel whilst maintaining 100% room occupancy potential. This was a considerable challenge, especially in view of early check-in and late check-out services" said head of projects Morne De Jager "in order to ensure a seamless installation with the holy grail of 0% guest disruption, the process needed to be implemented across a number of weeks."
Further complicating a seamless installation was the inherent issues and complications that can sometimes arise as consequence of new technologies. In order to manage this, Airwave stationed a team of engineers at the hotel, enabling instantaneous fixes and the meticulous implementation of new technologies - in each and every room and suite.
A mammoth, but ultimately successful installation of a world-class television entertainment system - a great start to the new year!
To learn more about Samsung hospitality TVs, Otrum Enterprise, hospitality certified Chromecast, Airtime, Sky TV or even the secret to a seamless TV installation process, get in touch: info@airwave.tv or 0845 555 1212