Sky High in the Treehouses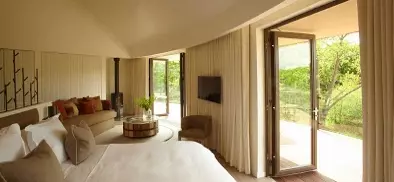 The award-winning Chewton Glen Hotel and Spa has recently developed their own unique Treehouse accommodation in a secluded valley within the 130 acres of grounds that surround the hotel. The Treehouses at Chewton Glen are unique in every sense, built high among the trees each of the twelve Treehouse Suites provides an unforgettable setting for unwinding.
They are a tranquil oasis where guests can truly relax with a first class entertainment system. Airwave supplied and installed the latest Samsung 40" Hospitality TVs as well as 19" Tilevision screens in the bathrooms. The Samsung LED TVs offer brilliant high definition picture and the super slim screens fit elegantly into the rooms. Guests can watch the full Sky HD channel selection, including movies, sport, music, entertainment and more. Airwave also supplied Blu ray players and Teleadapt MediaHub HD units, allowing guests to connect their devices seamlessly to the Samsung screens and play out their own music, series, movies and view photos and videos.
James Hobden, IT Manager at Chewton, commented: 'Once again, Airwave has provided us with a great level of customer service and worked with us to ensure we found the best solution for our award-winning Treehouses. We are very impressed with the Samsung screens and with Sky HD and the Teleadapt units and feel sure that our guests will enjoy the entertainment systems and well as the Treehouses!'