WunderLocke & Schwan Locke, Munich
29 May 2022

08:49
The Brand
Stay for the weekend, or three months. Eat out, or in your pyjamas. Present to the board, or ignore all calls.

Meet friends, or make new ones. Order a flat white, or a Pina Colada. Go for three courses, or a scone.

Run 5k, or a bath. This is your place. To stay, to live, to be.

Locke. Feel free.

Locke - Space for Living
Lockeliving provide design-led apartments that combine the convenience of a hotel, with the freedom of the home environment.
With 12 locations, situated across the UK, Ireland and Germany, Locke's lifestyle brand is expanding quickly, in line with the growing lifestyle and shared space sector.
The Properties
Schwan Locke
Located a short stroll from Theresienwiese (better know as the site of the world famous Oktoberfest), Schwan Locke sits in the heart of the pretty neighbourhood of Glockenbackviertel. Here, lucky guests are surrounded by coffee shops, bars, artisan food spots, and independent shops. And if that's not your thing, a quick ride on the tram lands you in the city centre, with Marienplatz, Beergarden Augustiner Keller and the museum quarter, all vying for tourist attention.
Featuring mid-century industrialist styling, the property's 151 bespoke designed apartments are sophisticated and spacious, offering fully fitted kitchens and floor to ceiling windows.
As with all Locke properties, there are public spaces aplenty, including a coffee shop, bistro, a 55M² gym, a co-working environment and meeting & event spaces.
Wunderlocke
Designed by Holloway Li, the 360-apartment Wunderlocke is located in the throng of Munich's Sendling district.
The property features a raw concrete frame - a homage to the neighbourhood's industrial past - and houses five food and drink venues, across seven floors. Other facilities include a co-working area, coffee shop, meeting & event spaces, outdoor pool, sauna and gym.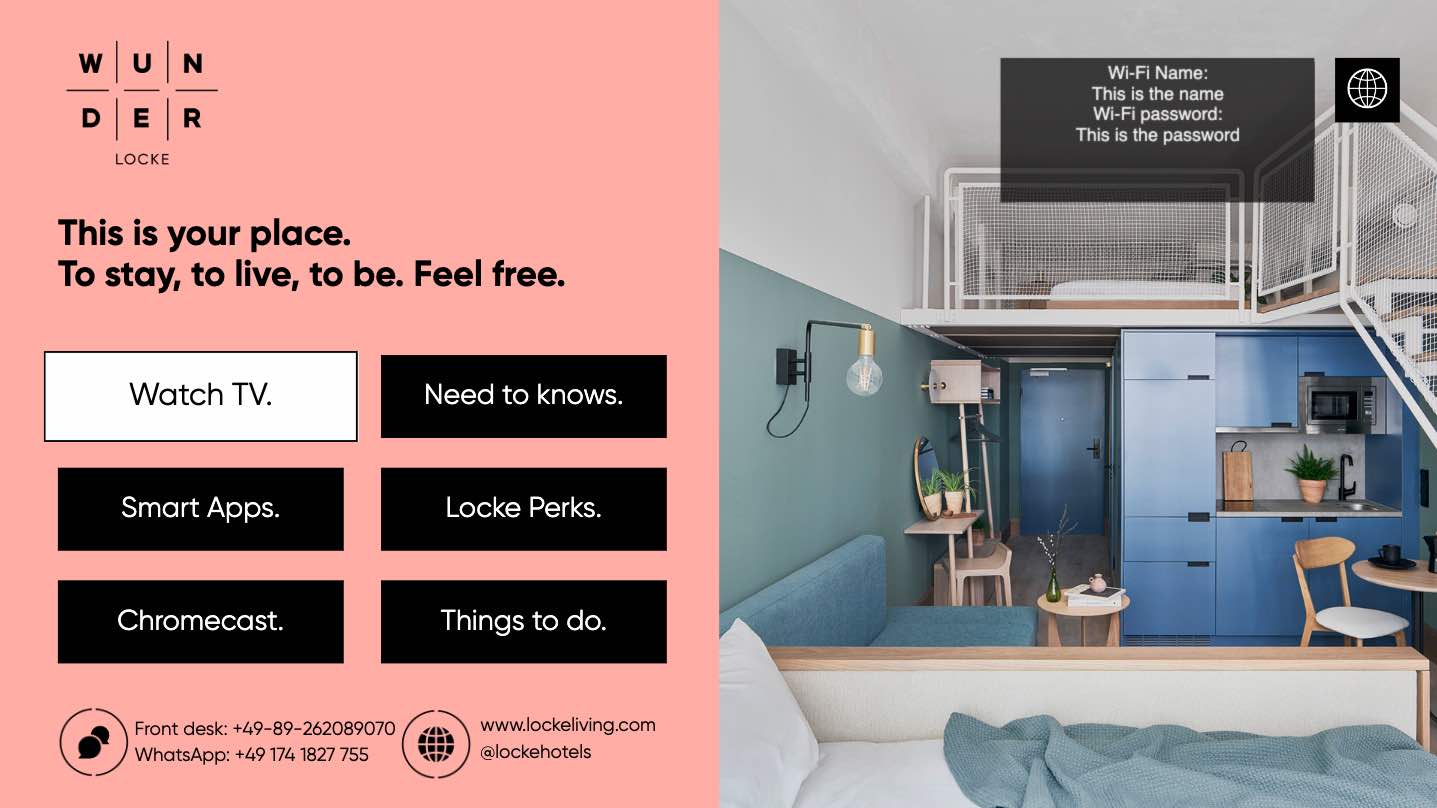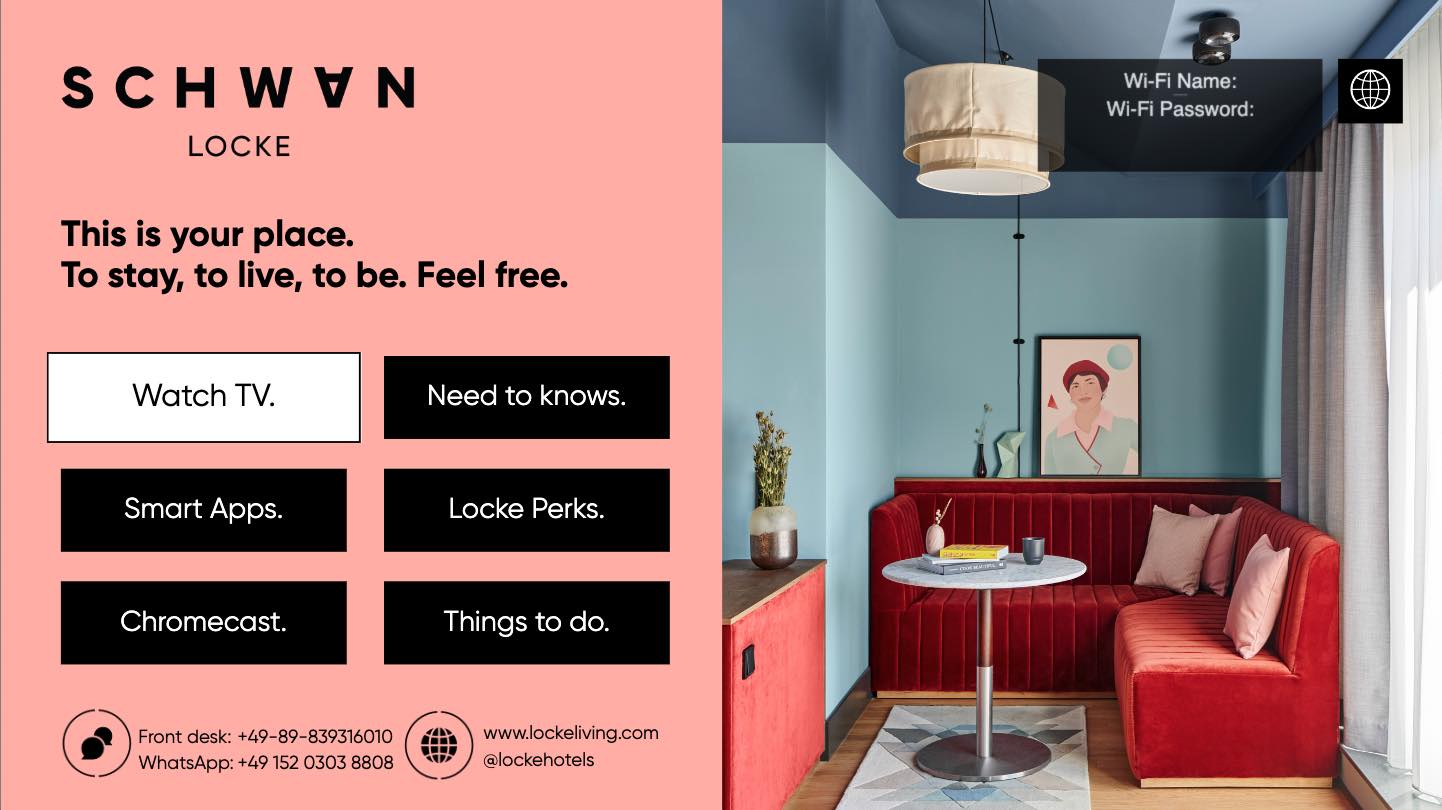 The Technology
With so much to do, and so much to see (and that's not even including all the local area attractions), a top draw TV information system was high on the Munich-based Locke propertys' agenda.
Step forward Otrum's cloud-based Mirage information system. Mirage provides a powerful SaaS solution, enabling unparalleled options for the customisation, branding and personalisation of the guest-room TV's interface.
The personalisation of a guest user interface (GUI) is especially important when dealing with design-led brands (Locke being the perfect example), who'll typically want a large amount of input in the GUI's design - providing assets such as graphics, images, fontsets etc
On this occasion, Locke's marketing department collaborated with Airwave's design engineers, to create a brand standard GUI for the Locke portfolio of properties (as per the above images).
This features a series of information pages, a link to a tailored list of channels, SMART apps (such as catch-up TV services, YouTube etc) and Google Chromecast - allowing guests to cast content from their portable device, to the in-room TV.
Across both properties, Otrum Mirage was integrated with Samsung 690 Series hospitality TVs - all wall-mounted (with ultra-slim brackets) to preserve the the guestroom aesthetic.
Additional 690 Series displays, powered by Otrum Mirage, were wall-mounted in various public areas, including meeting rooms, gyms, canteens etc