The Grand Brighton
16 September 2020

09:11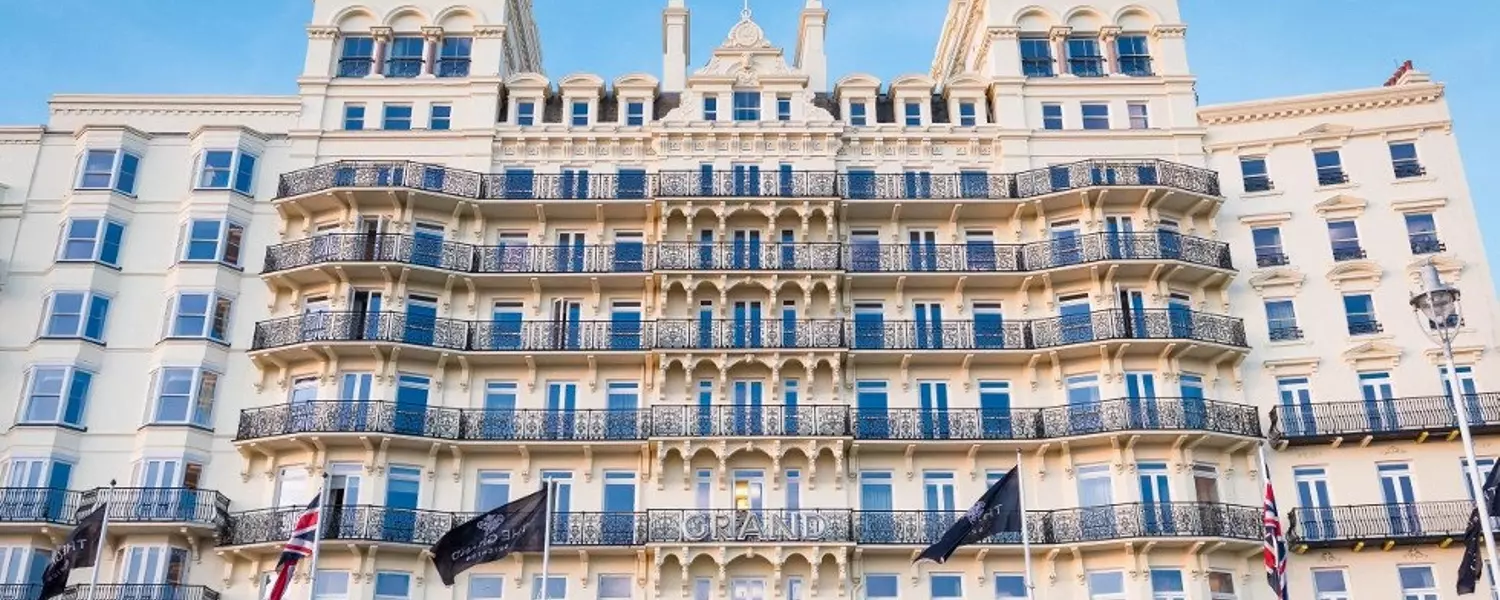 Oh I do like to be beside the seaside
Kiss me quick, squeeze me slow, ice cream, wind and rain - the British seaside holds fond memories for many a feuding family - and few resorts are quite as iconic as South Coast jewel, Brighton .
Sandwiched by the stunning South Downs and miles of pebbled beaches, Brighton is one of the most visited seaside resorts in England.
The Grand sits proudly on Brighton's promenade, a stone's throw from the BA Viewing Tower and next door to the Brighton Centre, greeting guests with a stunning, sweeping staircase and several floors of recently refurbished rooms.
Sounds like the ideal environment for a top quality TV entertainment system? Naturally, Airwave was happy to oblige:
The Project
Ahead of the TV installation, Airwave upgraded the hotel's network infrastructure, implementing an in-room network upgrade across the Grand's 201 rooms. In conjunction with this, a DOCSIS (data over coax) headend was installed in the comms room, enabling the delivery of smart services over the existing coaxial network (to learn more about DOCSIS solutions, click here).
Next step, TVs! Samsung's HGEE690 Series SMART hospitality TVs ticked the right boxes with 135 x 49-inch, 53 x 55-inch and 13 x 43-inch displays desk-mounted in the guest rooms.
Otrum's CTRL information system was embedded onto each TV, providing a welcome page and 10 interactive information pages. CTRL's cloud-based technology saves associated hardware and maintenance costs of server based systems, whilst retaining a comprehensive list of features such as native TV apps, TV channel line-up management and fully customisable graphics & menus.
Remaining on the cloud-based technology theme, the cloud-based movie app Airtime, was deployed on each TV, providing guests with multi-language, early-release blockbuster movie and programming content on a pay-as-you-play basis.
And as a chocolate flake on the ninety-niner, hospitality certified Chromecast was installed in 49 of the Grand's premium rooms, allowing guests to stream their own content onto the guest-room TV.
"It was great to work with such an iconic hotel" said head of hospitality sales Wayne Bowring, "I've spent many a happy hour here and was delighted to help improve the TV entertainment offering!"
To find out more about Samsung hospitality TVs, Otrum CTRL, Airtime or hospitality certified Chromecast, get in touch: info@airwave.tv or 0845 555 1212