Airwave and Otrum at the Radisson Blu, Cardiff
19 December 2016

16:02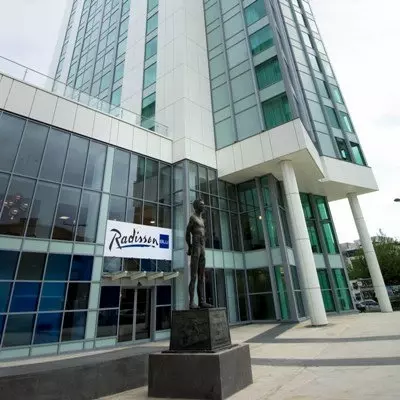 The Radison Blu, Cardiff is an upscale property boasting an enviable location in Cardiff's city centre. 21 storeys tall, guests are treated to expansive views of Wales' capital city.
With this in mind, a world class television system was needed to ensure guests are also distracted by the view inside the room. Otrum and preferred partner, Airwave Europe, were tasked to provide a system offering customers a truly top drawer media experience.
Airwave installed 230 x 48" and 55" Samsung 690 series SMART hospitality TVs, integrated with the Otrum Enterprise solution. Otrum's state-of-the-art system incorporates an intuitive interface, providing stress-free navigation through the myriad of features.
Ian Tait, Account Manager at Airwave: "We wanted to provide a system that would enable the hotel and guest to communicate in a seamless manner. This way, the hotel can keep the guest informed throughout their stay whilst also enabling the guest to communicate with the hotel – very useful for requests such as room service".
In order to create the increasingly expected "home from home" experience, Airwave also installed an Apple TV in every room and provided "Airtime", the ground breaking video-on-demand system*
* Airtime is a cloud-base streaming solution that removes the need for on-site servers or set-top- boxes, eliminating the associated costs. Apart from a small activation fee, the Airtime service is provided free-to-hotel, with no ongoing content fees and no need for the guest to have a subscription. For more information on Airtime, visit www.airtime.cloud
For more information on the latest in-room technology and for friendly professional advice, please contact us on 0845 555 12 12 or info@airwave.tv