Studley Castle
11 February 2019

09:40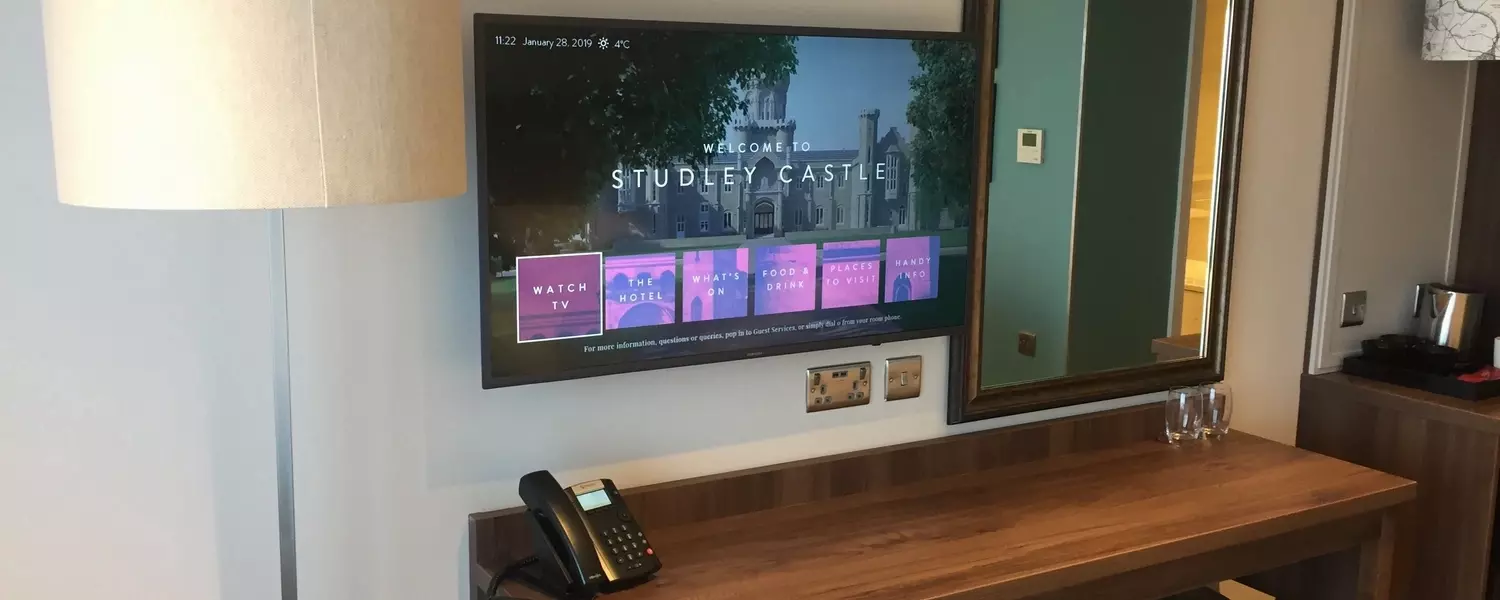 Part of the Warner Leisure portfolio of properties, Studley Castle is a Grade II* listed building set in 28 acres of Warwickshire countryside.
A vision of Warwickshire High Sheriff, Francis Lyttleton Holyoake, the castle's £120,000 budget (today's equivalent being £14.5M) was entrusted to renowned architect Samuel Beazley.
Completed in 1836, Studley Castle served as a family home for 70 years, until spiralling costs and lavish living forced its sale. It's since served as an agricultural college, a training camp (used by the Women's Land Army in both world wars), offices & conference centre and latterly, a country house hotel.
When this was closed in 2016, Warner Leisure was quick to purchase the castle, soon commencing a 50M renovation and development programme, restoring the property to its original grandeur - and creating Warner's flagship hotel.
As official AV technology supplier to Warner parent company, Bourne Leisure, Airwave was tasked to supply a guest-entertainment and display system,
"Warner Leisure's restoration programme looked to modernise this stunning gothic-revival style castle" said Airwave Operations Director, Toby Hart "we needed to undertake a significant infrastructure upgrade whilst being sensitive to the property's aesthetics and history - it was a fascinating and ultimately rewarding project."
Airwave initiated the project by providing an aerial and satellite system, installing a cutting-edge GPON compatible headend to enable the provision of a Freeview service and Sky TV across the property.
192 x Samsung HG43EE690 SMART Hospitality TVs were supplied and wall-mounted in the castle's bedrooms, each featuring an Otrum CTRL cloud-based interactive information system. Otrum's cloud-based system provides an agile alternative to hardware based equivalents, whilst retaining most features - such as TV channel line-up management, native TV apps (catch-up services, YouTube etc), fully customisable graphics & menus and the ability to integrate with Google Chromecast. Click here to see a demonstration of the Studley Castle Otrum CTRL system. Otrum's CTRL software allows a hotel to specifically tailor a technology offering - on this particular occasion, Studley Castle opted away from an integrated app and Chromecast enabled system, for example.
8 x TV displays were installed in various public areas across the property (the Arden Lounge, Cafe Lounge, gym, studio etc), each screen fully controllable via Demopad technology (enabling staff to operate each TV via iPads) and showing Freeview and Sky TV.
8 x Samsung LFD (digital signage) displays were also deployed, each running Otrum signage and used to schedule various promotional content, such as the Studley's "Stables Spa" details as illustrated below; these were installed at strategic points throughout the property, ensuring that the castle's key features and services were evident to all guests.
Airwave will soon install 25 x Samsung HG49E690 SMART TVs to the premium "Castle Rooms" alongside a signage screen in the castle area's reception.
"It's been an honour to provide several different types of display technology to this beautiful site" said Airwave Head of Projects Morne de Jager "it's been an enjoyable exercise of integrating new technology into a property, rich with life and history."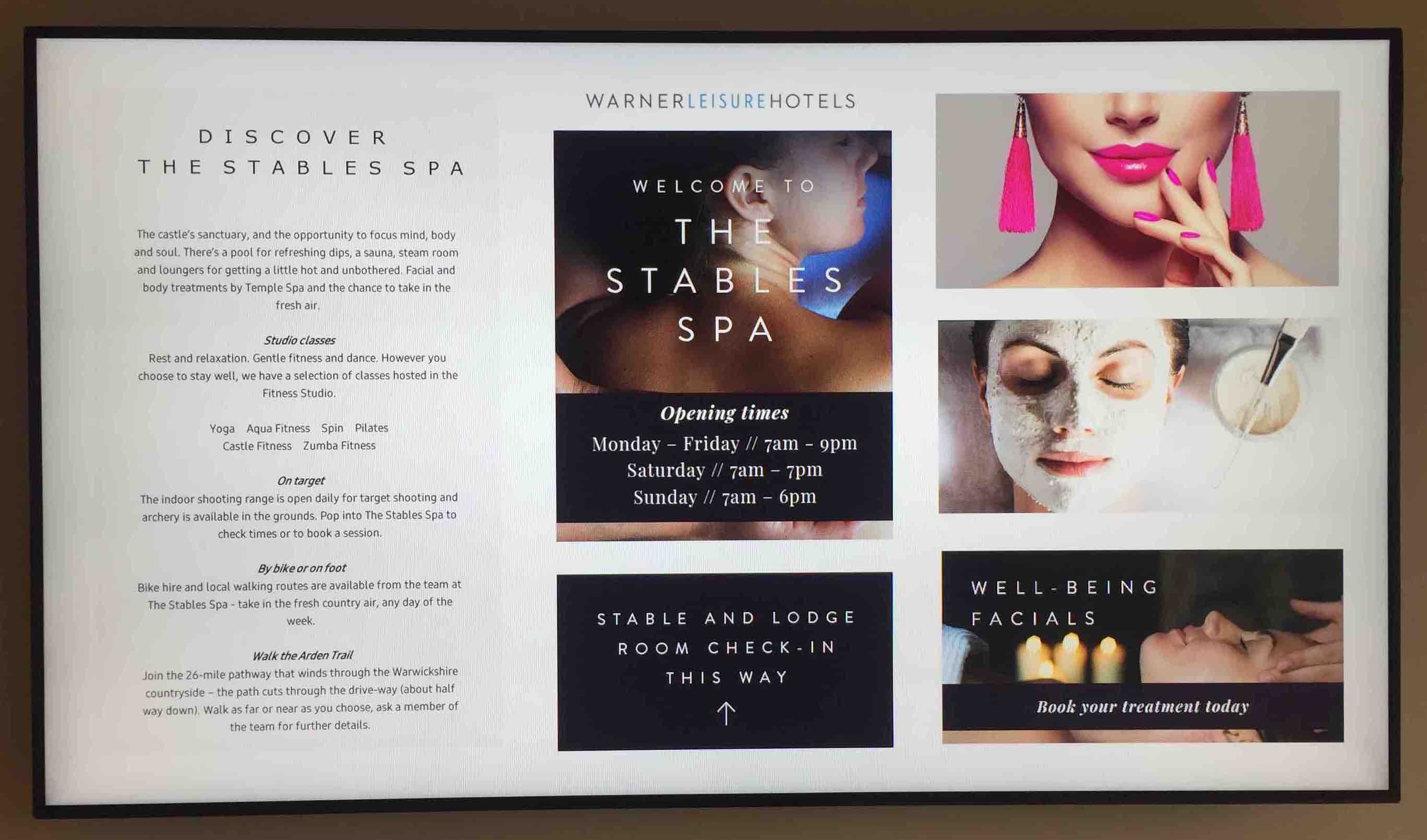 Example of a Samsung LFD display, hosted by Otrum signage software, providing guests with Studley Castle key information.