Samsung small display signage - DB series
DB series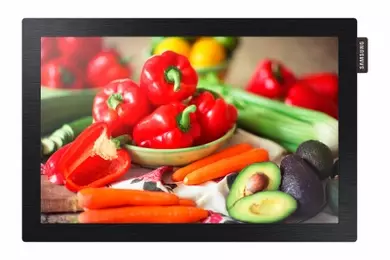 Samsung
Highlights
Enhance the customer experience by effectively delivering engaging personalised messaging at the 'point-of-sale' with sleek, space-saving LED displays.
Operate effectively in business and commercial environments with high durability, a longer lifespan, extended warranty, multiple connectivity and easy content creation and management.
Enhance operational performance with embedded 2nd generation Samsung SMART Signage Platform (SSSP), boasting a powerful quad-core processor with system-on-chip (SOC) technology.
Streamline the display environment and increase efficiency with an all-in-one solution featuring built-in Wi-Fi and an embedded media player.
Rely on a proven display leader that offers a B2B product road map, top-notch customer service and extensive global coverage.
Small screen signage solutions offer versatility, enabling them to be placed in intimate and tighter locations, providing close-up, individualised messages targeted for specific products and services. The result is a deeper, differentiated in-store experience through proximate, interactive communication that boosts sales performance.
Why not simply use cheaper consumer tablets? Consumer-grade displays are not designed for continuous and rugged usage, which is an important factor when considering the commercial use of any digital display. Samsung small-sized displays are specifically engineered for highly reliable, long-term commercial use in business environments and deliver high levels of brightness of up to 450-nit.
Consumer-grade displays might seem economical in the short term, however the displays inevitably become costly in the long run, when they break down unexpectedly, with voided or expired warranties. In contrast, Samsung displays are backed up by a 2-3 year warranty.