22SM3TB
22SM3TB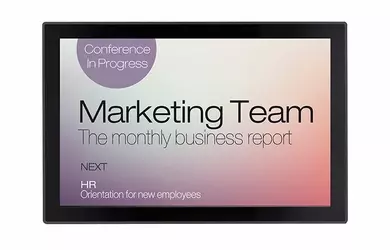 LG
22SM3TB Small Signage
The 22SM3TB is a compact touch screen that can be used in a wide range of places, such as a price tag on supermarket shelves, near cashiers in convenience stores or as a notification board in business spaces. The display offers simple and efficient power management via PoE (Power-over-Ethernet).
- Brightness : 400cd/m2
- Bezel : 14mm (Even Bezel)
- Depth : 29.7mm
- Interface : USB, SD Card, RJ45
- Special Features : Wi-Fi Built-in, K-Slot
Key features
Built-in Touch
Interactive process between users and displays with built- in touch, creates informative and lively user experience.
5.9GB Internal Memory + SD Card
With 5.9GB of internal memory and an additional SD card slot, you can play a sufficient amount of content within the internal memory or additional storage.
Simple Network Management Protocol
SNMP support ensures convenient network management.
PoE & Low Power Consumption
PoE* allows the installer to connect the power and network using just one wire. This greatly simpli es the installation and maintenance processes in locations where adding a power outlet is expensive or prohibited.
The 22SM3TB with SoftAP software can operate as a wireless access point for mobile devices.
Support for Android Environment
The application which can be operated on the screen with customers can be developed and used based on Android OS.