SM5KC Series
SM5KC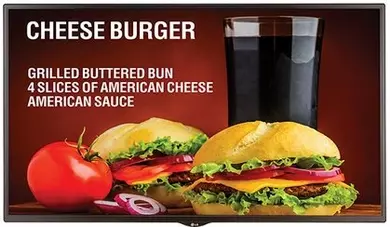 LG
SM5KC Series (32/43/49/55/65)
The SM5C Series webOS signage, allows for customised apps that are easy to create using LG's software development kit. The built-in Wi-Fi and SoC reduce the total cost of ownership and simplify installation, allowing you to manage content more conveniently. The SM5C series strengthens capability in supporting various network-based protocols.
Key features
Quad Core SoC
Built into this signage is a Quad Core Processor. This is the engine behind the webOS platform that allows fast loading of apps and menus, as well as multi-tasking between apps. The result? quick access to content and smooth playback.
webOS 3.0
With webOS 3.0 you can build apps and construct your own customised signage solutions using the LG Software Development Kit (SDK) and display logos during screen idle time (i.e. boot up, lost signal).
Built-In WiFi & Mirroring
This signage has built in Wi-Fi and the ability to mirror your Miracast enabled smartphones screen, so you can share content on a Wi-Fi network.
Soft AP
With SoftAp, the SM5KC signage can operate as a wireless access point for SoftAp enabled mobile devices.
Simple Installation
Easy to install as there is no external media player or Ethernet/RS232C cables required.
Dust & Humidity Protection
The SE5KC Series has been designed with the LG Conformal Coating to provide additional protection to circuit boards in harsh environments such as dust and humidity.
Detachable logo
The detachable LG logo allows easy installation in Portrait or Landscape mode.
Group Manager
Content can be created, distributed and controlled by a signage without a dedicated PC or server.
PBP (Picture-By-Picture) / PIP (Picture-In-Picture)
PBP (Picture-By-Picture) and PIP (Picture-In-Picture) features enable you to compose various layouts for several digital devices.
IP Streaming Protocol
Various types of IP video streaming protocol are supported, such as RTSP/RTP, MMS, HLS and MPEG-2 TS*.
Secure Communication Protocol
By supporting HTTPS* protocol, communication between server and signage is more secure.