UH5C series
UH5C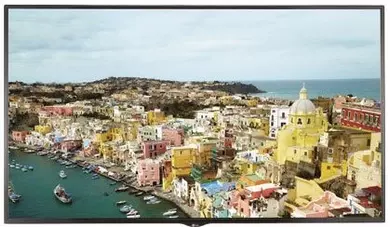 LG
UH5C Series (49/55/65)
With an expanded UH5C Series lineup, you have options to suit most environments. The UH5C boasts stunning clarity, vivid and realistic colors and world class picture quality.
Key features
Ultra HD Resolution
Ultra HD Large screen delivers immersive viewing experience
webOS 2.0 operating platform
The webOS 2.0 platform provides easy and convenient tools to create contents. LG's SDK* and technical supports make content development and management easier.
Built-in WiFi
Enables mirroring and content sharing.
SoftAP
The UH5B with SoftAP software can operate as a wireless access point for mobile devices.
Reduced Power Consumption
It has excellent energy-efficiency and cost- savings with the M+ panel, which decreases power consumption by approximately 31% compared to a RGB panel.
High efficiency Video Coding
Supports HEVC-based content which has the double data compression ratio than the H.264 so network traffi c can be reduced by half.
Up-Scaling and Super Resolution
Up-Scaling and Super Resolution technology enhance the quality of FHD content to near-UHD quality.
Quad Core SoC
The High Performance SoC can execute several tasks at the same time and provides smooth content playback