Wall-Mounted Android Displays
AS - WM Android display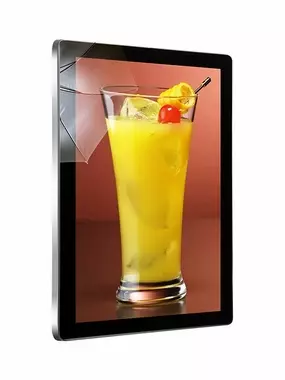 Airwave
Designed for rugged, heavy commercial usage and ideal for retailers looking to engage customers , Airwave's wall-mounted android signage solutions are guaranteed to generate extra revenue.
Whether you have 1 or 1,000 screens, all can be simultaneously be updated via the cloud, at the push of a button, allowing the delivery of dynamic advertising content straight to your customers
Highlights
Commercial grade - robustly built and designed for use in commercial applications - no external buttons or controls avoids tampering by customers
Integrated android media player - allows super fast updates.
Built in Wi-Fi - connect the screen to the CMS wirelessly via the integrated Wi-Fi, ethernet or by LAN.

Portrait/Landscape Orientation - the screen can be used in both formats to suit all requirements.

IPS Panels - IPS panels shine brighter than domestic televisions, giving superior image quality and colour depth at ultra wide viewing angles.

Plug and Play - the easiest way to upload content to the screen, simply load content on a USB stick and insert in the display. Wait for your content to copy over and then remove - your images and videos will now play in a continuous loop.

Giant Tablet Styling - designed to resemble a giant smartphone/tablet, the sleek and sexy look ia achieved with a striking aluminium surround and stunning IPX1 rated edge-to-edge glass.

Free Wall Mount - the screen comes with a super- slim wall mount that allows the screen to be securely mounted in either landscape or portrait orientation.
Note: attached specification sheet refers to 32" screen, for all other sizes, please get in touch.