Interactive Touchscreens
Airwave Touchscreens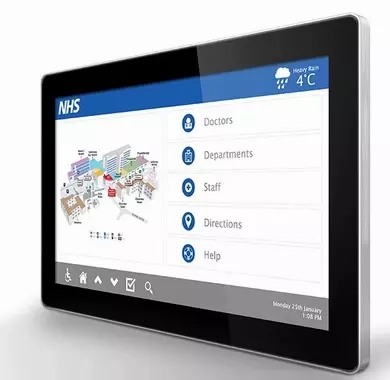 Airwave
Experience the most versatile commercial touch screen on the market. With both Android and Windows operating systems installed on the integrated PC it cannot be beaten on flexibility.
State of the art Projected Capacitive interactive technology offers the most responsive and sensitive touch experience available. Designed for commercial applications, PCAP touch technology works by fixing a sensor grid between a layer of cover glass and the LCD panel, when a finger touches the glass the grid detects the coordinates of the touch point.
Highlights
Commercial grade - designed for use in commercial applications, this screen can run 24/7 and features no external controls to avoid tampering.
10 Point PCAP Touch Technology - using the most responsive and sensitive commercial touch technology available. Not affected by dust or debris on the screen surface.
Dual OS -the integrated PC has both Windows and Android operating systems installed. Easily switch between the two for the most versatile touch screen solution on the market.
Portrait/Landscape Orientation -the video wall can be used in both formats to suit all requirements.
IPS Panels - superior image quality and colour depth at 178° ultra wide viewing angle in both landscape and portrait orientations and with no blackening defect.
Audio - the screen has two integrated speakers but also has an audio out port for connecting headphones or external speakers.

Giant Tablet Styling - designed to resemble a giant smartphone or tablet. The sleek and sexy look is achieved with a striking aluminium surround and stunning IPX1 rated edge-to-edge glass.