Samsung UD46E-P Video Wall
Samsung UD46E-P Video Wall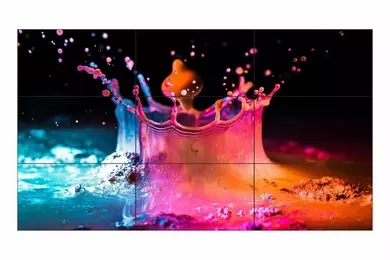 Samsung
Highlights
Uncompromising color accuracy and brightness uniformity through precise calibration and superb panel technology
Ultra-narrow bezel (3.5mm) and UHD resolution for virtually seamless, life-like viewing experience
All-in-one display solution with embedded MagicInfo Player S3, no need for external media players
Display Port (DP) Daisy Chain for improved device connectivity and simplified content management
Highly reliable displays designed for 24/7 operation, with simple, easy-to-use special wall mount included
Showcase superior picture quality through advanced colour calibration.
Any irregularity in brightness and colour accuracy across video wall displays can negatively impact the viewing experience. To eliminate such colour expression gaps and maintain a fully-aligned, consistent and captivating presentation, Samsung's UDE Series video wall, UDE-P, features advanced factory tuning, innovative hardware and exceptional user calibration tools.
Samsung's multi-step factory calibration process tunes video wall displays to the highest-performing uniform brightness and colour across each display. After calibration, these displays offer an industry-leading local uniformity of more than 90 percent across 25 (5x5) areas of each screen, resulting in uninterrupted colour expression across the entire display.
The calibration process also maintains a superior white balance difference of less than 300 degrees K, while simultaneously achieving detailed colour in grayscale through multi-step gamma calibration.
In addition to rigorous factory calibration, users can manage brightness and color uniformity conveniently with Samsung Color Expert, a powerful free software program. Through these advanced solutions, the UDE Series video walls maintain superior uniformity, consistency and performance for the ultimate in color expression within large-scale presentations.