Samsung UDE-B Video Wall
Samsung UDE-B Video Wall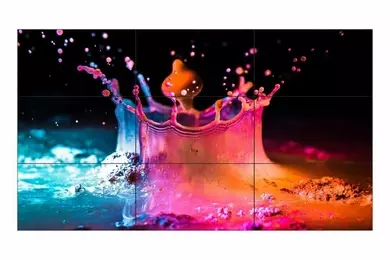 Samsung
Maintain professional picture quality and consistency through advanced colour calibration.
Highlights
Multifaceted UHD video wall solution based on daisy chain through the use of Display Port (DP) 1.2
Brightness uniformity and color accuracy with Samsung Color Expert Technology and factory calibration
Ultra-narrow 3.5mm bezel-to-bezel design for a near-seamless appearance of the video wall
Clear message through an anti-glare panel (haze 44%), with reliable 24/7 operation
Achieve ultimate picture quality through advanced calibration
Any irregularity in a video wall's brightness and colour accuracy across displays can negatively impact the viewing experience. To eliminate these types of colour expression gaps and maintain a fully-aligned, consistent and captivating presentation, Samsung's UDE Series video walls feature advanced factory tuning, innovative hardware and exceptional user calibration tools.
Samsung's multi-step factory calibration process tunes video wall displays to the highest-performing uniform brightness and colour across each display. After calibration, the displays offer an industry-leading local uniformity of more than 90 percent for optimal colour accuracy across the entire display. The calibration process also enables the displays to offer a superior white balance.
In addition to rigorous factory calibration, users can manage brightness and colour uniformity conveniently with Samsung Colour Expert, a powerful free software program. Through these advanced color management solutions, the UDE Series video walls enable large-scale presentations to feature superior uniformity, consistency and performance for the ultimate in colour expression