Samsung UD55E-S Video Wall
Samsung UD55E-S Video Wall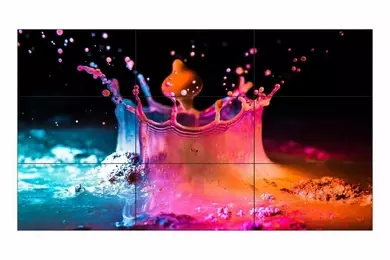 Samsung
Maintain professional picture quality and consistency through advanced colour calibration.
Highlights
Specialized panel with low color temperature (2,800K - 6,500K) tailored for broadcasting studio usage
Vivid images and clear message from any perspective through a wide viewing angle and non-glare panels
Brightness uniformity and color accuracy with Samsung Color Expert Technology and factory calibration
Dependable displays designed for continuous 24/7 live television broadcast environments
Sleek design with a slim depth and 3.5mm bezels for an elegant, near-seamless viewing experience
Broadcast studios risk losing colour consistency when translating news footage and graphics between cameras and displays if the displays have not been properly colour calibrated. To eliminate irregularities that can diminish professional quality broadcasts, Samsung's UDE-S video wall comes with advanced factory tuning, innovative hardware and exceptional user calibration tools.
A multi-step factory calibration process ensures high-performing uniform brightness and colour consistency, preventing studios from having to waste time and energy making adjustments. After calibration, the displays offer an industry-leading local uniformity of more than 90 percent for optimal colour accuracy across the entire display. The calibration process also maintains superior white balance, while simultaneously achieving detailed colour in grayscale through a multi-step gamma calibration.
Samsung Colour Expert, a powerful free software program, further enables convenient user management of brightness and colour value based on specific broadcast needs. Using the UDE-S video wall's sophisticated colour calibration features, broadcast studios can maintain accurate colour expression and manageable colour values – regardless of content type or situational need.