The Hotel Information System - a Luxury or Mandatory?
29 August 2019

14:09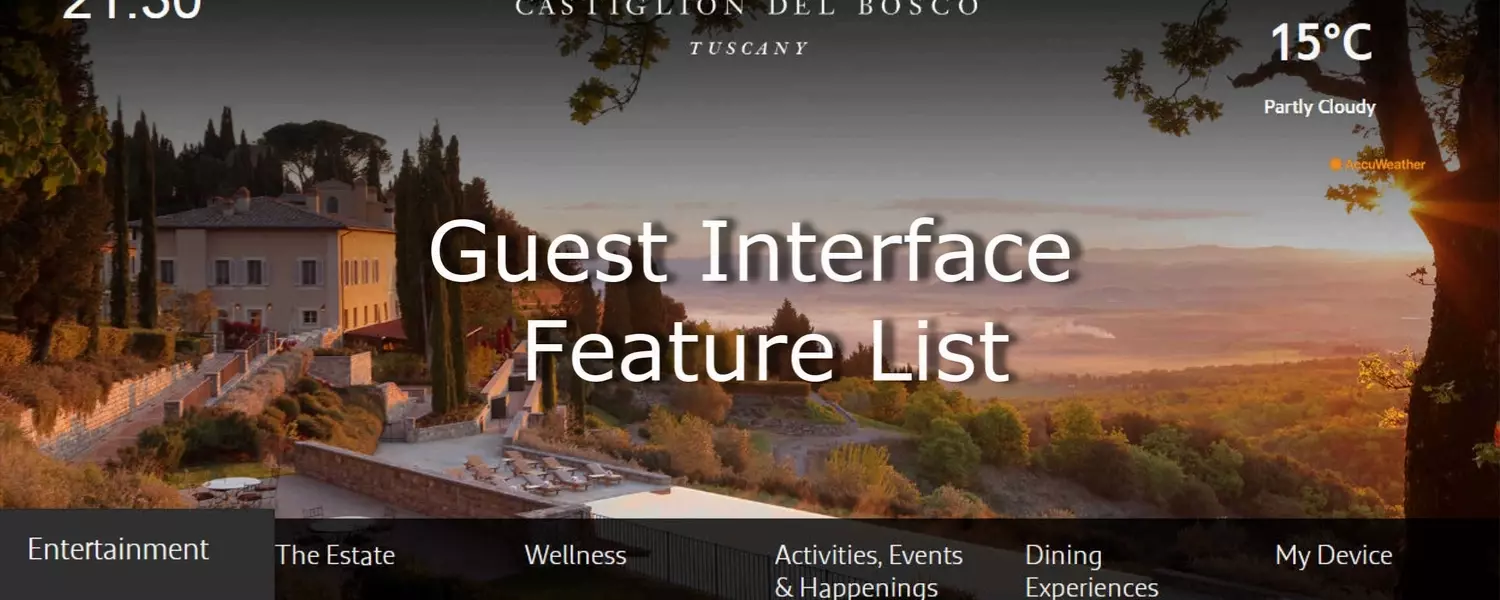 The hotel information system - perhaps more specifically labelled as an interactive guest entertainment and information interface. Often thought of as a useful branding tool or a vehicle to house hotel information and services (no more need for unsightly in-room literature!), technology's rapid march forward sees an increase in the information system's capabilities:
A full inventory of services
Interactive TV systems turn a hospitality TV into a powerful information and marketing tool. Fully customisable and remotely managed, well-designed systems elevate the guest experience and enhance a hotel's operational efficiency.
As technology advances, so does the list of embedded functionalities. IP based solutions offer extra features such as catch-up TV services and smart apps, and PMS software automates hotel operations, integrates IT systems and enables two-way communication between the guest and hotel.
Systems come in all shapes and sizes and cater just as well for a small boutique property as a global chain of hotels. Features can be categorised into five key headings:
INFORM
The principal function of the interactive TV system is the communication of information. At a basic level, this takes the form of a branded welcome screen, images, video and a series of information pages detailing restaurant menus, local attractions etc.
Features such as airport flight times, weather conditions and RSS feeds offer added functionality and a richer experience - likely to be of use to the majority of guests.
Messages can be sent to rooms detailing special offers, fire alarm times etc and IP systems allow information to be sent to individual rooms – this is a great feature for hotels looking for the personal touch and often used to welcome a guest, by name, to the hotel.
Welcome screen - Intelligent wake-up alarm - Hotel services & facilities - Restaurant menus - Local weather conditions - Local airport flight times - Guest messaging - RSS feeds -Viewbill
ENTERTAIN
As viewing habits change in line with evolving technology, so does the number of ways a guest can watch content on a TV; interactive systems provide a platform to support different technologies on a single interface.
All systems should support a clearly labelled "watch TV" button, enabling quick and easy viewing. Electronic programme guides can be incorporated alongside customer channel lists – particularly useful when grouping channels by language or genre.
IP systems support catch-up services such as iPlayer and ITV Hub, thus catering for the 8 in 10 UK adults (40 million people) that regularly watch catch-up TV. These can be embedded on the TV or accessed through a guest's own device via Chromecast or a screen mirroring service – alongside popular streaming services such as Netflix, Amazon Prime and YouTube.
Electronic Programme Guide - Catch-up services - Streaming services - Customise channel groups - Screen mirroring and casting - Video on Demand
OPERATE
Operational efficiencies afforded by an interactive system are plentiful, enabling a hotel to streamline costs & processes whilst providing a better, quicker service.
At the most basic level, systems allow a hotel to remove printed in-room directories, providing all salient information on the guest-room TV.
Examples of more intelligent efficiencies include room management features such as room ready notifications (enabling chamber maids to flag prepared rooms) and guest check-out, allowing guests to check-out via the TV, reducing reception queues and expediting the cleaning of rooms.
For hotels with an eye for detail and a desire to improve staff productivity, Otrum's Enterprise system allows housekeeping to report room faults, minibar consumption and communicate with other staff members – this can be done via the TV or even an alternative device such as a tablet or smartphone.
PMS integration - Guest check-out - Room ready notifications - Remote management & monitoring - Maintenance reporting tool - Minibar reporting - Housekeeper own language & favourite music - Automated e-mail and SMS alerts for staff - Cloud based operation - Automatic tuning to your housekeepers' favourite radio channel.
PROMOTE
Interactive systems can be a powerful revenue generator, providing long-term return-on-investment and an enhanced service for guests.
Traditionally, hotel TVs have generated revenue through the sale of blockbuster movies and adult material; whilst guests still do purchase this type of content, portable devices and the Internet have significantly reduced the pay TV market. As a consequence of this (and improving technologies), interactive systems have become more powerful and offer a multitude of extra revenue streams.
Popular examples include the construction of online 'storefronts' allowing guests to order and pay for services such as room service, spa treatments and late check-out. Special offers can be sent to TVs and can be tailored and pushed to individual rooms or sent to every TV.
Local service advertising (taxi firms, restaurants, local attractions etc)present further ongoing revenue opportunities.
Upsell - Branding - Video-on-demand/Pay TV - Special offers - In-room purchasing - Room service - Local service advertising - Late check-out
ANALYSE
Statistics applications provide insight into how guests consume in-room technology, for example, how are guests spending their money? what channels are being watched? how many click-throughs does each advert receive? what are the most popular pay TV movies? Collected data is accessed via the cloud and can be used to position services accordingly. Analysis tools are particularly useful when used across a group of hotels and can be used to identify location or demographic based statistics.
WHAT MAKES A GOOD SYSTEM?
Each individual system will depend on the user's requirements – and can be very basic (featuring one branded welcome screen) or powerful. However, each system must share the same common characteristics and be intuitive and quick to operate.
It may seem obvious, but a user should be able to turn a television on and watch TV with a simple button click – avoiding unnecessary navigation, menus and 'hanging.' All other features should be easily accessible and again, able to navigate back to the channel with a click of a button.
HOW CAN AIRWAVE HELP?
Airwave's team of content engineers are experts in the design and deployment of all leading information systems including: Otrum Enterprise & CTRL, AirMedia, Samsung REACH, Philips CMND and LG Pro:Centric. Equally proficient in RF, IP and DOCSIS systems, all the bases are covered!
Click the link for further details or get in touch to chat technology: info@airwave.tv or 01403 783 483