Is WiFi more important than beer?
08 June 2022

17:00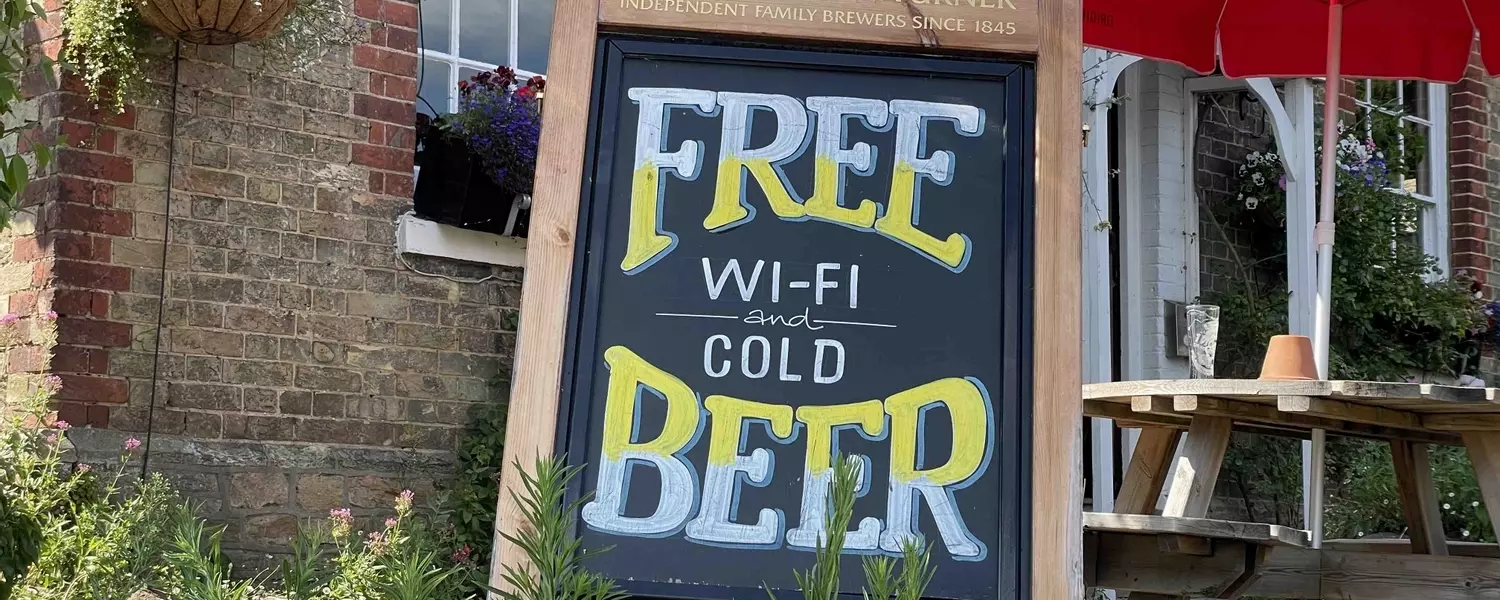 Cold Beer and Free WiFi
Did you know that the Internet was invented over 40 years ago in a beer garden?!
We're not sure whether this megabyte of inspiration came pre or post beer, but were interested to learn that a WiFi signal can be enhanced with an empty beer can. Click here if you're curious (but note that Airwave don't recommend or practise the use of beer cans in the deployment of WiFi infrastructure).
---
Free WiFi and Cold Beer...
And speaking of beer gardens, this article's accompanying image was taken on a sunshine soaked summer's afternoon at a beer garden in Godalming, Surrey.
Note that WiFi features first, and beer second! In a pub?! Was this careless writing....or a considered marketing message?
Maybe the answer lies within the corresponding scene; 8 people occupied wooden benches just out of shot - 6 of the 8 drinkers were idly fiddling with their phone.
So, whilst it's spurious to suggest that WiFi is more important to a pub than beer - is the above scene a microcosm of today's online world?
And should hospitality venues sit up straight, take note and consider the provision of top drawer WiFi, as priority number one?
---
Sleeping
Well, in the hotel industry, priority number one is surely the provision of a home-from-home experience and a good night's sleep?
Ah, sleeping! a noble and quite wonderful pastime.
But, hang on a minute. Communications regulator, Ofcom, reckons the average Briton spends more time online each day, than sleeping. That's a daily average of 8 hours 41 minutes on media devices, and 8 hours 21 minutes catching Zs....
It's all becoming clear now:
Beer is good, so is sleeping. But WiFi is more important.
---
So, GET YOUR WIFI RIGHT, and keep it right...
Whilst WiFi, of course, should be on every good hotel's radar (and is increasingly being offered as a standard amenity in even the most basic of properties), it's not enough to simply 'offer WiFi.'
Guests won't thank you for buffering, timeout errors and fiddly form-filling sessions. Hotels (that want to remain competitive), must provide competent, fast WiFi that works well, every time.
Simply speaking, a hotel must get its WiFi right, and keep it right...
Top quality WiFi infrastructure should tick a few boxes:
Consistently fast and reliable - offering a stress-free online experience, that holds up just as well during peak times and maximum occupancy.
Seamless, intuitive - accessible quickly and seamlessly (ideally via a QR code), avoiding the need for multiple logins.
Coverage - available throughout the hotel, not just the guest-room.
Scalable & future proofed - new or evolving technology, increasing ownership of portable devices , larger file sizes - can your WiFi infrastructure cope with the corresponding increases in bandwidth requirements?
---
How can Airwave help?
Airwave partner with industry leading WiFi experts, Wifirst, to offer cutting edge, scalable WiFi infrastructure, that can be upgraded as and when required (click here for more details).
All WiFi infrastructure deployed, integrates seamlessly with Airwave's portfolio of TV entertainment and digital signage solutions, creating a home-from-home TV technology experience.
Anyway, it's time for a beer...and a bit of browsing of course...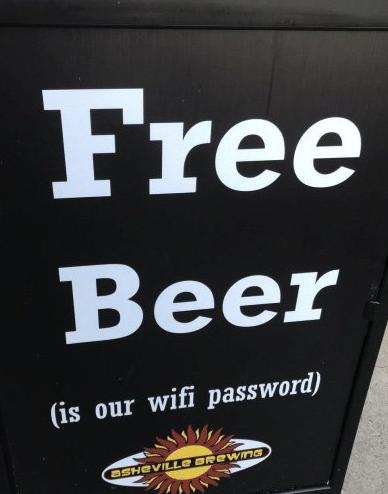 To find out more about Airwave's WiFi service, get in touch: info@airwave.tv or 01403 783 483