Technology as a Revenue Stream
22 December 2021

07:00

The age-old hotel TV v domestic TV debate. Ask any veteran Airwaver to discuss the benefits of a hotel TV versus it's domestic equivalent, and you'll get a comprehensive response.
Indeed, the only string to the domestic TV's bow, is a slightly cheaper purchase price; however, this becomes inconsequential when a hotel TV's return-on-investment potential is realised.
A well-designed TV entertainment system offers compelling ROI - it's as simple as that.
And with this in mind, we feel it prudent to show off partner, Forest Holidays' epic QR based food and grocery ordering functionality, embedded within the TV's (Otrum) menu system.
Why is it epic?
Well, the guest benefits from a comprehensive list of food and drink (take a look here, the choice is incredible) to satisfy the most exacting of palates, and a veritable smorgasbord of groceries ensures a forgotten box of matches or size 3 nappies, doesn't ruffle any feathers.
So, Forest Holidays provide a visible, accessible, value-added service (win), meaning happier guests (win) and a sizeable extra revenue stream (win win). Everybody's happy!
Making It Easy...
One of Airwave's key drivers is to make technology as easy as possible, not just for young whippersnappers, but for the silver foxes and experienced sages amongst us. Our collaboration with Forest Holidays is a great example of the power of technology when it's intuitive and accessible.
The below detail the guest's journey from peckishness, to fulfilment of tasty food. To see a video of the process, click here
---
1. Guest clicks on "CABIN DELIVERY SERVICE."
2. Guest clicks on "FOOD & DRINK" (or GROCERIES).
3. Guest uses smartphone (or tablet) to scan QR code (usually with the phone's camera).
4. Guest chooses, and pays for tasty food on the Forest Holidays food & grocery website.
5. Guest eats tasty food, whilst quietly impressed with the crispness of his pizza base, and of course, the seamless technology.
---
The journey in pictures: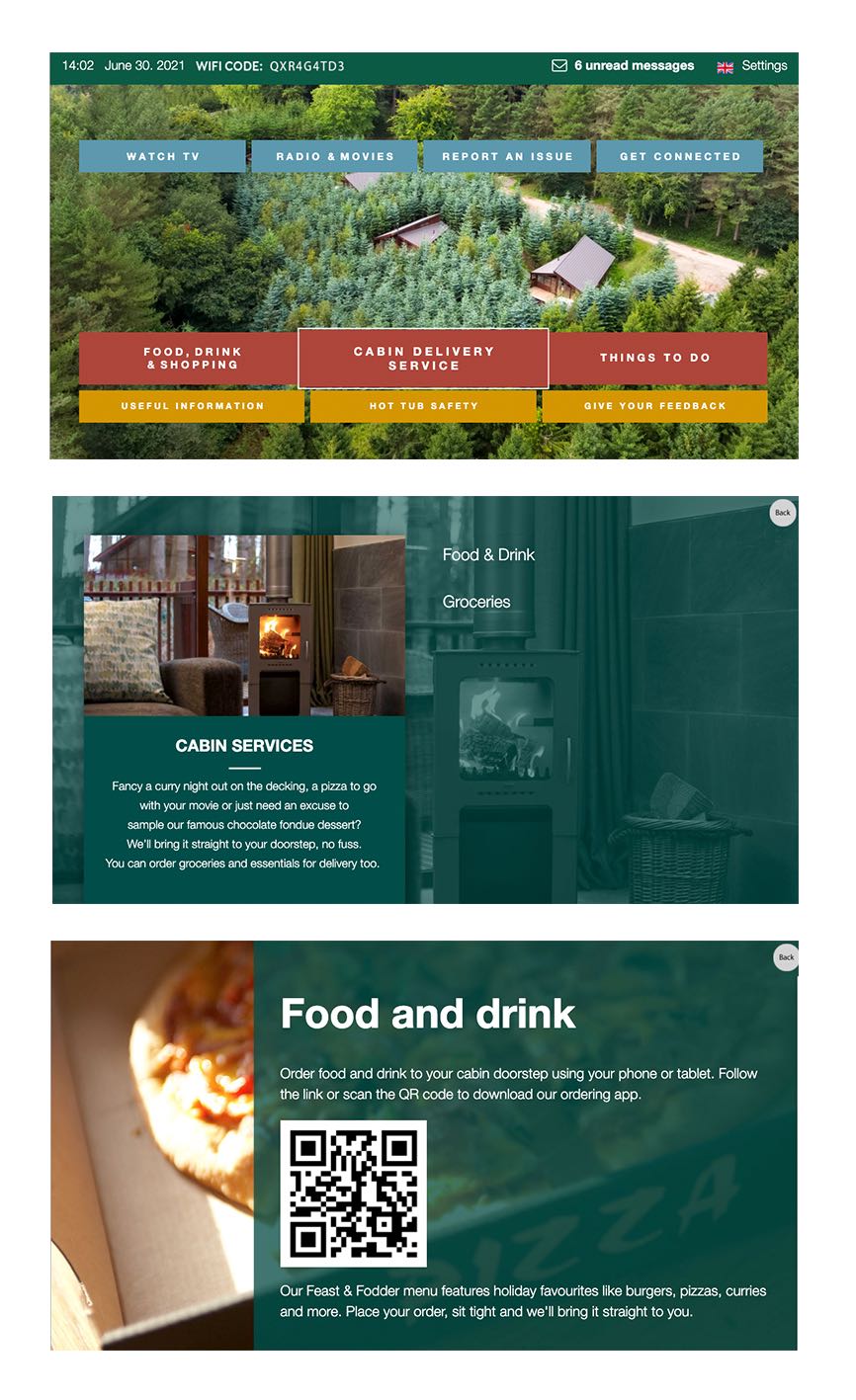 A quick scan of the above QR code (why not try it yourself?) sends the guest to Forest's food/groceries website, as below: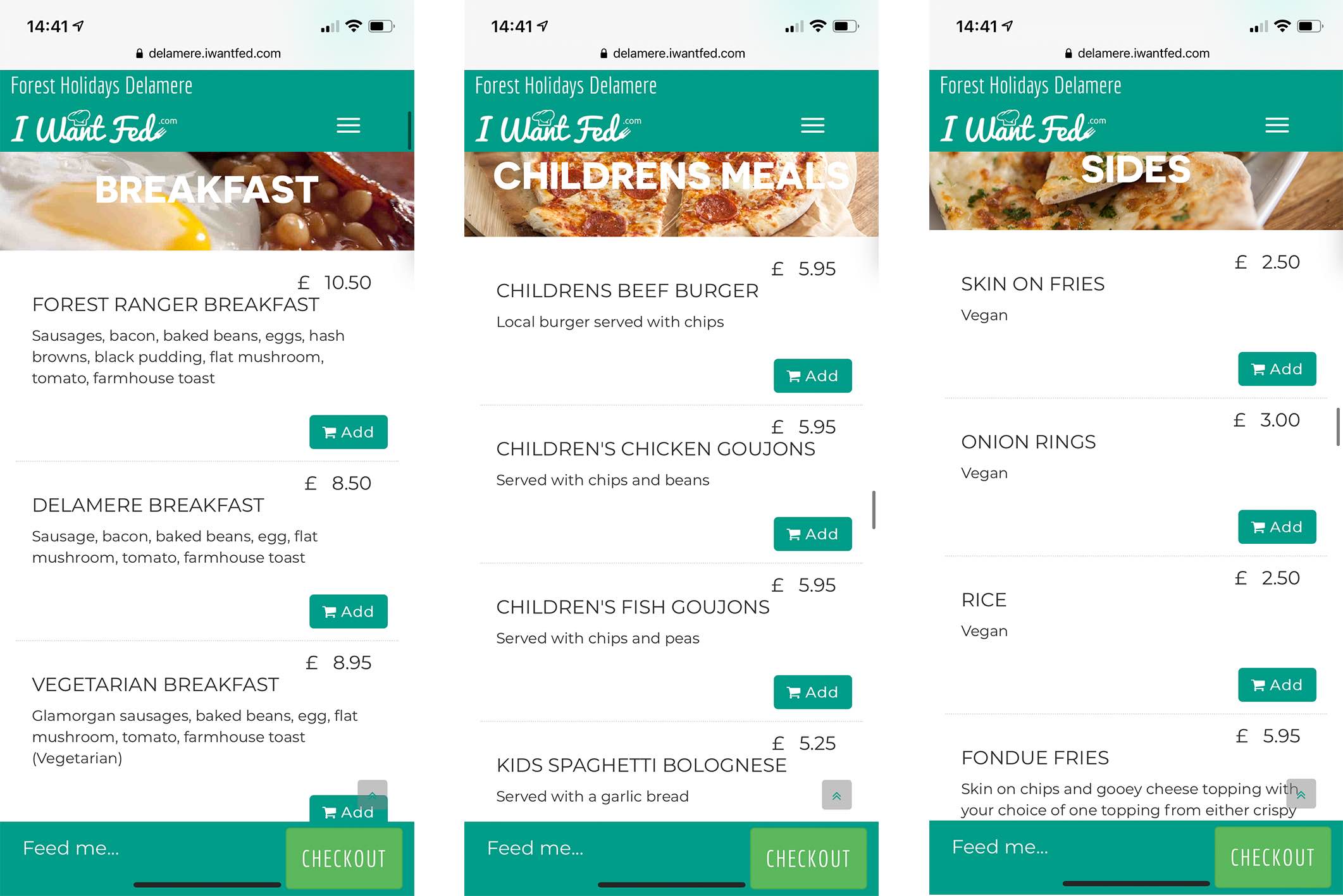 ---
Revenue generation, further options...
Of course, snazzy room service functionality isn't the only revenue generation opportunity available, plenty of other options exist, the most popular being:
In-room purchasing: why stop at food and groceries? offer your guests the opportunity to book hotel extras - such as spa appointments, tee-off times and massage treatments, also via the TV.
Late check-out: are your beds too comfortable?! appeal to your hungover/lazy/disorganised guests by allowing them to pay for a late-check out via the TV.
Local service advertising: local services such as restaurant/take-aways and taxi firms will often pay for advertising space within busy hotel environments. This of course, can be implemented via the TV system.
Video-on-Demand: pay as you watch movies are still much in demand in the hotel room and offer an unspectacular, but steady and reliable income stream.
If you'd like to read more blog articles, click here, if you'd like to find out more, get in touch: info@airwave.tv or 01403 483 783